1k recordings
2023
Tomorrow! 9/10 at 8 pm
Ursula Rucker + Tim Motzer duo
Double bill with Irreversible Entanglements
at Solar Myth, Philadelphia
GET TICKETS HERE:
https://www.arsnovaworkshop.org/programs/irreversible-entanglements-2/
DON'T MISS this amazing double bill tomorrow night at Solar Myth in Phlladelphia with Irreversible Entanglements featuring Moor Mother celebrating their Impulse! record release, AND Ursula Rucker + Tim Motzer duo presenting new work + classics.
It's gonna be a historic and astounding night of poetry and music like none other!
"From the moment that Ursula Rucker and Tim Motzer first unified their singular magical words-and-music efforts on the historic stages of Philly's Tower Theater, opening for the legendarily conscious Nina Simone, all bets have been thrown off the table. Whether appearing within the intimate confines of a duet setting or something broader (but no less intrinsic and interpersonal), the divine cacophonous wordsmith and the clamorous textural guitarist have created tactile, co-joined waves of nuance and noise, of beauty, sex, strife and solace. Alone they are epic. Together, Rucker and Motzer are crucial, an emotional, intergalactic soulful soundscape too rare and too righteous to miss."  – A.D. Amorosi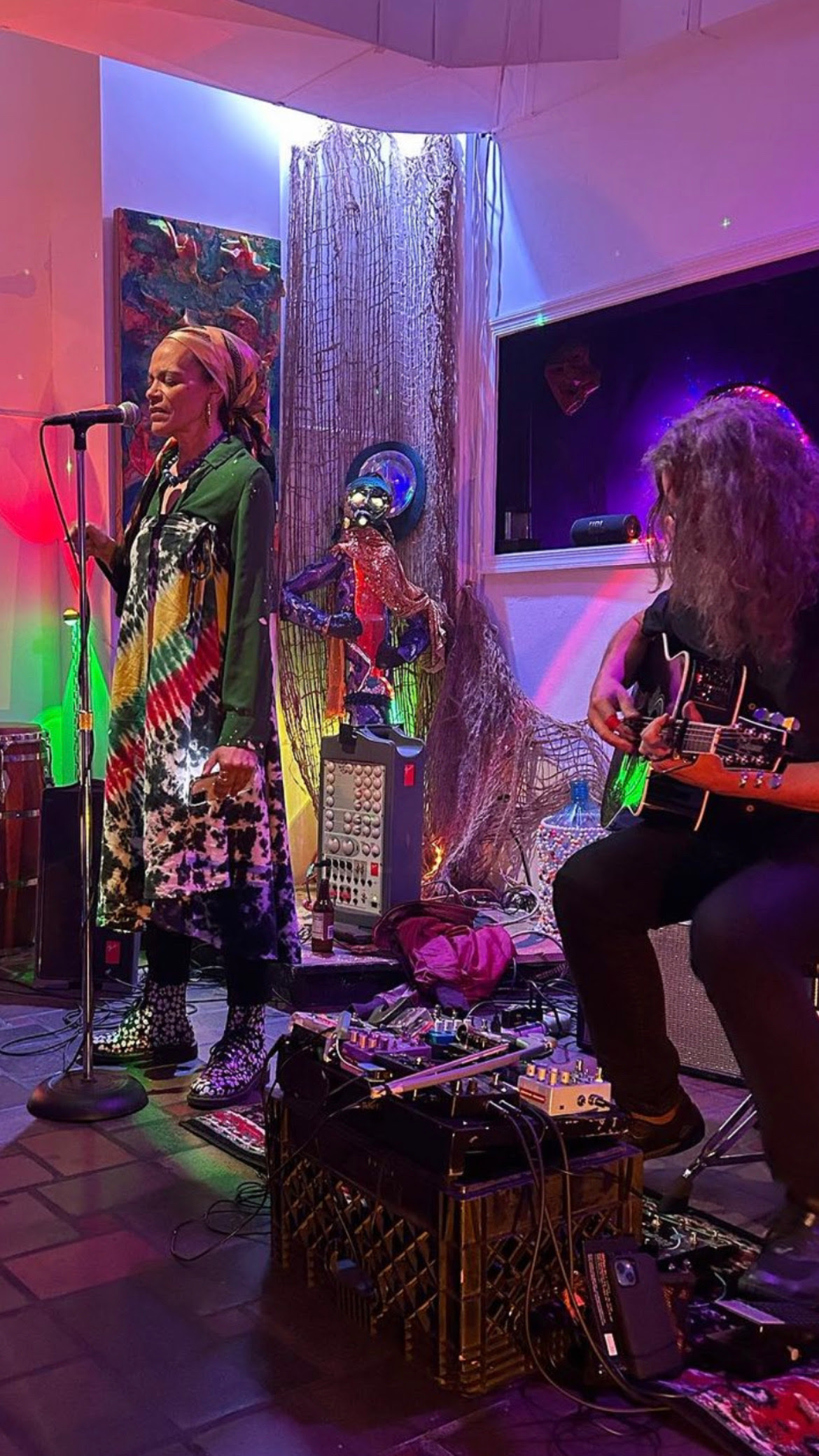 Ursula Rucker + Tim Motzer
Ursula Rucker – voice
Tim Motzer – el. guitar, electronics
Camae Ayewa – voice
Keir Neuringer – saxophone
Aquiles Navarro – trumpet
Luke Stewart – bass
Tcheser Holmes – drums
See you there! Be sure to get your tickets soon. This show will likely sellout!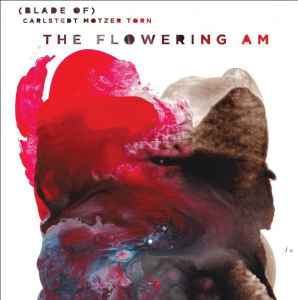 1k May Newsletter
New (Blade Of) Video + Latest Releases + Deep Catalog Picks
WATCH: (Blade Of) Carlstedt Motzer Torn – Ping
feat. David Torn, Tim Motzer, Jeremy Carlstedt
(Blade Of) Carlstedt Motzer Torn (1k064)
CD edition in a beautifully designed 6 panel gatefold wallet featuring Tim Motzer paintings along with Sid Smith liner notes, plus 24 bit, 48 khz hi-rez download: https://1krecordings.bandcamp.com/album/the-flowering-am
The debut of this fully improvisational trio (Blade Of) features David Torn, Tim Motzer & Jeremy Carlstedt. Their new release, the flowering am, is the mark of their first meeting: a deep dive into spherical sonic & musical territories. The three atmospheric yet raw explorers, with two guitars, drums & electronics, create a density of sound that may approach the orchestral, with Torn's abstractly romantic textures & overtones floating, spinning through the sprawling suite. Carlstedt's drumming can just flip the band's current equation; he creates exquisite firestorms, dynamic nuance and propels the music forward, and inward. Motzer, with his acoustic-electric guitar, shapeshifts throughout as sometimes bassist, soloist and re-arranger exploring the edges, curves, and corners in these astonishing journeys.
"Collectively, Torn, Motzer, and Carlstedt create a cinema of the interior in which the attentive listener is enclosed. Narratives twist back in on themselves in an instant, spiking into unseen spaces. Their soundtrack is as loud as mountain thunder, as quick as a precious thought through thin air." Sid Smith
Tim Motzer – Beacon (1k066)
24 bit, 48 khz hi-rez download:
https://1krecordings.bandcamp.com/album/beacon-24-bit-48k-hi-rez-release
"Beacon is an extraordinary solo set by Tim Motzer, recorded live at beloved music venue Quinn's in Beacon, NY, in front of an audience who listened in rapture to this totally improvised 45-minute journey.
Motzer begins his dramatic set exploring ethereal harmonic chord sequences on his acoustic-electric 12-string guitar & creating atmospheric cloud-like loops. Surprises abound, as the song 'Snafu' veers to different landscapes and percussive terrains. Eastern themes emerge, constant re-inventions and re-orchestrations lead the listener through to a beautiful landing.
Trees in the Sky begins in mystery with de-tuned synth-like bell sounds, glitch electronics, and harmonized acoustic-electric 6-string percolations evolving into long gorgeous melodies and strange eastern drifts.
As 'Let's Go Dream' emerges, dark questions are being asked. Darker harmonic progressions are being investigated descending into a beautiful emotional passage with Spanish guitar melodies. A sadness lingers in the layered textures as the music sparkles in a spellbinding dissolve.
The epic final 25-minute piece covers the bulk of the concert. 'Climb, Descend, Chill' delves deeper and further out into sound exploration and incorporates a tempo-shifting sequenced semi-modular bass synth leading into some astounding slide guitar excursions on his baritone.Motzer has the innate ability to build captivating harmonic structures that seem to pull mesmerizing moods out of thin air. This set stays focused while untethering the cinematic dreamscapes to drift to where the music suggests it wants to go. Motzer follows this gloriously to the end, live without a net, in reverie. -dh1. snafu
2. trees in the sky
3. let's go dream
4. climb, descent, chill
45 minutes
Tim Motzer – 6 & 12 string guitars, baritone electric guitar, electronics, looping,
semi-modular, sequencer, percussion, bow, cliks
Recorded live at Quinn's in Beacon, NY on October 18, 2022
Presented by James Keepnews and Craig Chin
More Tim Motzer solo releases you will enjoy:
Tim Motzer – Live from the Sellersville Theatre
Tim Motzer – Inside
Tim Motzer – Tear Aside the Veil
Tim Motzer – The Twilight SomnabulistListen | Download here:
https://1krecordings.bandcamp.com/music
Recommendations From the 1k Vaults!
Recommendations from the 1k vaults:
Swana Motzer Hirlinger – Channels
tilomo – soft lunch
Jane Sheldon, Alon Ilsar, Tim Motzer – Coming Down For Air
Kurt Rosenwinkel Bandit65 – LIve At Nefertiti
Listen | Download here:
https://1krecordings.bandcamp.com/music
Be sure to browse our entire catalogue. So much great music to discover!
Copyright © 2023 1k recordings, All rights reserved.
you are recieving this mail as you opted in either to the 1k sessions site or 1k recordings website.Our mailing address is:

1k recordings

crease street

Philadelphia, PA 19125