350.org
Dear Jean Paul,
From forest fires blazing in southern Europe to 'Arctic heatwaves' in Sápmi, the impacts of climate change are already here. It's never been clearer — we must keep fossil fuels in the ground. In just a few weeks' time, thousands of people from across Europe will gather in the Rhineland, Germany to take a stand for climate justice. Together they will say "Ende Gelände. Here and no further."
The lignite mines and coal power plants in the Rhineland, Germany are the biggest source of CO2 in Europe. So on 24-29 August, thousands of people will take action in and around the coal pits, demanding a quick coal phase-out in Germany and bold international climate action. Then, when world governments meet in Bonn in November for the UN climate conference, there will be more actions in the lignite mines to show where the real climate negotiations are happening in Germany.
There will be many ways you can take part in events in the Rhineland this August. The climate camp begins on 18 August and will be an opportunity to meet like-minded people, learn skills and share perspectives on how to build a better future. There will be a legal human chain action and civil disobedience actions that are easier than ever before to join.
There have never been so many opportunities to participate and contribute. If you ever wanted to help block the operations of the fossil fuel industry, this is a great opportunity to try it. From the climate camps to the diverse actions taking place, this video rounds up everything you can get involved with:
Let's keep building this people power and keep fossil fuels in the ground,
Tine and the 350.org team
PS. Can't make it? You can help make this a powerful moment by sharing the Ende Gelände video and sharing news from the actions later this month.
---
Fossil Free is an international network of campuses and communities that are divesting from the fossil fuel companies that are causing the climate crisis. Connect with us on Facebook and Twitter, and sign up for email updates on our homepage.
We're heading into the final weekend of the Global Divestment Mobilisation — are you ready?
So many inspiring actions have already happened showing the people power right across the world that's ready to stand up to the fossil fuel industry.
Check out some of the highlights so far in this short video and please share widely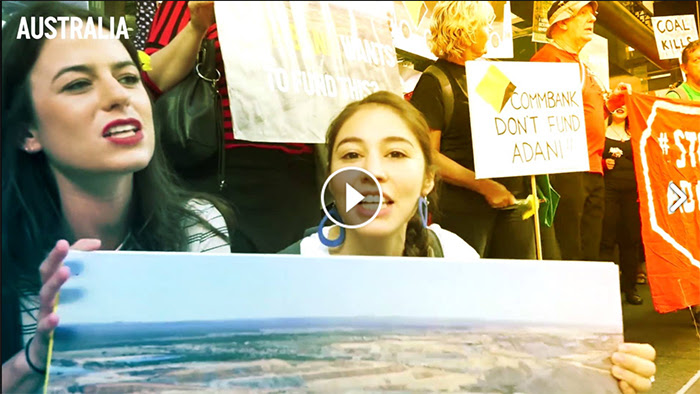 We're counting on you to help the Global Divestment Mobilisation finish with a huge bang. Now is the time for all of us to show our leaders and communities what it means to stand on the right side of climate justice.
We'll continue sharing live coverage of events on every continent so stay tuned,
Thanks
Louise for the whole Global Divestment Mobilisation team
What: Libérons le Louvre des combustibles fossiles
When: Saturday, May 13, 12:00 PM
Where: Musée du Louvre,Paris
Sign up: http://act.350.org/event/gdd2017_attend/13585/signup/?t=6&akid=21970.2053271.Uq9aIh

---
Dear friend,
This Sunday, about forty members of the collective "Liberons the Louvre" took part in an artistic performance, inside the Louvre Museum to call out its sponsorship by fossil fuel company Total.
This performance follows an international appeal, made public last January, calling on the Louvre to end its partnership with Total.
Dressed in black, performers gathered at the foot of the Victory of Samothrace. It's a symbolic location, that marked the determination of the Libérons Le Louvre group to keep staging interventions and performances … until victory!
Shortly before 10 am, performers removed their shawls, jackets and black waistcoats and slowly placed them on the steps of the staircase which descends from the base of the statue. They formed a symbolic oil spill flowing towards the museum galleries sponsored by Total and threatened by the most violent flooding of the Seine (which have been increasing as a result of global warming).
This performance is the first public appearance of this artivism collective, which will mobilise as long and as frequently as is necessary until the Louvre understands that its sponsorship deal is doing as much to 'artwash' Total's destructive activities as it is damaging the Louvre's own reputation and mission.
If you would like to take part in future performances and actions that will be organised in the Louvre as part of this campaign,
please sign up here
!
See you soon,
Clémence and Nicolas
---
The Louvre, one of France's most respected cultural institutions, is helping the fossil fuel industry to clean up its image.
Join our new campaign to end Le Louvre's partnership with Total – sign the petition.
The Louvre Museum is a vital institution — it's world-famous for its role in helping us to better understand the vast span of human history and civilisation.
And yet, by accepting corporate donations from fossil fuel companies like Total, the Louvre Museum not only stains its own reputation, but it helps foster the idea that we can continue to rely on fossil fuels without damaging our climate.
Today we've launched a high-profile report* revealing the recklessness of Total, in particular. If enough of us speak up, we can change the Louvre's policy and kick fossil fuels out of the arts!
Already dozens of celebrities, cultural leaders, artists and campaigners have lent us their voice – please add yours right now.
Last May, the Louvre had to evacuate some of its precious ancient artworks to save them from the rising flood waters across Paris. There's a bitter irony that the fossil fuel companies driving drastic changes to our climate are the ones profiting from the veneer of respectability that their Louvre partnership gives them.
It's time to end that relationship between fossil fuels and our museums – let's start by making Le Louvre Fossil Free together.
Friends,
More than a week after the final Break Free action, and I'm still amazed by the stories and images coming in from around the world, and by what this movement accomplished.
Here's a new video that helps capture the grwowing power of this awe-inspiring movement — take a moment to soak it in, and then please press SHARE to spread the inspiration around the world:
We're starting to process some of the lessons from Break Free and thinking about what happens next and where this moment leads  our movement.  Here are a just 5 of our early reflections:
1. We're more powerful together. The defining feature of each Break Free action was mass participation to escalate campaigns: in other words, getting more people to go further than they ever had before to stop fossil fuel projects. Break Free opened the door to thousands of new people joining actions, and showed that when we join together: We are unstoppable, another world is possible!
2. We need to have fun. This is a serious moment for our planet, and our movement. But in bringing people together, we can create joyful moments of power, opportunity and hope — it's exactly what this planet needs right now.
3. We're more connected than ever. As people blew whistles outside parliament in Indonesia, entered a coal-fired power plant in Germany and stood up against fracking in Brazil, thousands of us tuned in to watch live, share on social media and bear moral witness to unfolding events.  We have better tools than ever before for building bridges across our movements and geographic boundaries – and they make our fight so much stronger.
4. The fossil fuel industry is worried — we must be ready for anything. Our disciplined, peaceful mass actions discomforted many and caused some strong reactions from governments and companies. In South Africa, the country's most powerful family used every tool possible to silence a protest of their coal holdings; in Germany, Ende Gelände participants were targeted by the far right; in Ecuador Yasunidos members have been threatened with suspension from their jobs for protesting oil; and in the United States Big Oil has launched a nationwide, multi-million dollar effort to discredit climate activists trying to keep oil in the ground — including 350 and our allies being targeted by Congress.
Despite all of this, people power won the day, and will continue to — as long as we stay ready for anything.
5. There's a place for everyone. Not everyone at Break Free actions was able to or wanted to join the civil disobedience actions, and that's precisely why they worked so well. Some people cooked meals, arranged transport, shared on social media, provided legal advice, took photographs and many other crucial roles that made the actions the success they were. To change everything, it really does everyone and their varied experiences, skills and abilities.
Friends,
We actually did it!  Together, over 3500 people from all over Europe have shut down one of its biggest and dirtiest polluters, to keep lignite coal in the ground here in Germany. And today, Germany showed how it could break free from fossil fuels: it produced 100% of its electricity consumption from renewables.
The scenes at Ende Gelände have been almost unbelievable: from the apocalyptic landscapes of Vattenfall's dusty opencast lignite mines to the sight of thousands of tiny white-clad figures swarming together in huge 'action fingers' to shut down first the diggers, then the coal bunkers and train tracks, and onto the coal power plant itself. Authorities were utterly powerless to stop us.
Words just won't do. WATCH AND SHARE THIS VIDEO.
What's happened here in Germany has been echoed all around the world, a movement of (extra)ordinary people rising up to put an end to business as usual and break free from fossil fuels. At this point, anything else would be irresponsible.
The stakes for the climate are high – but spirits here at the Ende Gelände camp are also. By working together, in a principled and peaceful way, we've achieved something unprecedented by the European climate movement.  We've called time on the fossil fuel industry – and we couldn't have done it without every single person who tuned in and helped amplify Break Free.
It doesn't end here. We still need to stop the sale of Vattenfall's coal, and keep it in the ground.
You'll hear from us in the coming days and weeks about further direct action to ensure Sweden keeps the climate promises it made in Paris.
But for now, let's just take a moment to think about what we've achieved this weekend!
Louise
for the whole Break Free team in Europe and the 4000+ people still at Ende Gelände
---
350.org is building a global climate movement. You can connect with us on Facebook, follow us on Twitter, and become a sustaining donor to keep this movement strong and growing.
February 2016 was the most abnormally hot month in history, by a heart-stopping margin:
Scientists didn't expect this kind of temperature increase for decades. Parts of the Arctic were 16 degrees Celsius warmer than they should be. The fossil fuel industry is pushing our climate to the brink faster than anyone expected.
That's why people on every continent have been making plans for a wave of action from May 4 to 15. By the thousand, we will show the world that now is the time we need to Break Free from fossil fuels.
We just released a new video about Break Free — check it out:
This is an emergency, and I intend to act like it.
I hope you will join us – both in Pau (details below) and in Germany for Ende Gelände
In 2016, the fossil fuel industry faces an existential crisis.
In Paris, governments made promises to end the fossil fuel age and the fossil fuel industry is slipping into financial crisis thanks to historically low prices and our movement's efforts to expose its dangerous business plans.
Two consecutive years of record global temperatures have increased support for a just transition to 100% renewable energy for all, like never before.  But it won't happen fast enough, unless we take action.
There has never been a better moment in history to break free from fossil fuels.
Since the Paris climate talks, people across the world have been making plans for a global wave of mass civil disobedience, from May 4 – 16, that will give the world a mandate to confront and end the industry at their weakest moment in generations.
The plan here in Europe
The Swedish company Vattenfall is trying to sell off its German lignite operations and leave the dirty job to someone else — but our allies Ende Gelände have exciting plans to create so much investment risk for potential buyers that keeping the coal in the ground becomes the only viable option.
Last year, 1500 ordinary people entered a lignite mine in the Rhineland and shut it down. This May, many hundreds more of us will shut down Vattenfall's coal mining in Lusatia, Germany, in a mass action of civil disobedience. Anyone will be able to take part in this action to stop the diggers, whatever their level of experience.
There will be coaches travelling from all over Europe, and training beforehand.
Will you come to Ende Gelände in Germany from 13 – 16 May?
By confronting the power of the fossil fuel industry, we can create space for something better to grow in its place: from clean energy projects to local solutions that provide for a just transition for workers and those impacted by fossil fuel exploitation to a new kind of economy.
Join us at Ende Gelände in Germany this May.  And if you can't wait til May, we invite you to Pau in early April to help block a world summit of oil companies about deep-sea drilling.
By coordinating our escalation across the planet this May, we can show the fossil fuel industry that they have no place left to run: the world is through with their pollution, their corruption and their greed.