BAND OF FRIENDS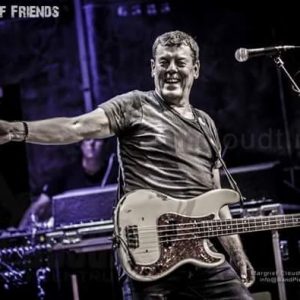 Rory Gallagher International Tribute Festival 2020 – Postponed until 2021 — Due to Covid-19 virus circumstances — ALL TICKETS REMAIN VALID for next year's 2021 Festival Festival Dates – 3rd to 6th June 2021
Having already taken the decision to postpone the 2020 Festival from May to August, we regrettably today announce that the Festival cannot be staged in August 2020 due to the uncertain circumstances arising from Coronavirus / Covid-19. The Irish National Authorities at present are unable to confirm the numbers allowed for a Festival Gathering in late August having in recent days scrapped Phase 5 of the Road map to reopening the country. That Phase 5 had included allowing Festivals & Events from 10th August 2020, however this has now changed. With this uncertainty and in the interest of Public Safety for everybody, it is now best to postpone this year's Rory Gallagher International Tribute Festival 2020 and instead focus on staging a safer and a worthy tribute to Rory in 2021. We thank everybody for understanding and that we did our level best as a voluntary organising committee to stage the event in this special anniversary year for Rory, however it is now not possible and we will continue to honour Rory in the time ahead.
The Dates for next year's Rory Gallagher Festival are 3rd to 6th June 2021. All Tickets purchased for this year's event will remain valid for 2021.
Rory Gallagher International Tribute Festival is a voluntary organised event and we would urge as many of our ticket holders as possible to stay with us for 2021 and therefore roll-over your tickets to next year. We have commitments from the leading Festival Big Top acts announced that they will appear in 2021.
All Ticket Holders have received an email today outlining how to DEFER their Tickets to 2021 or to seek a refund. All Ticket Holders have been contacted to the Email address that they made the booking from.
We are happy to take any enquiries so please feel free to contact us by Email – roryfest@hotmail.com
We thank you all in advance for your support in this decision and look forward to welcoming you to Ballyshannon, Co. Donegal, Ireland for Rory Gallagher International Tribute Festival 2021 – we promise to make this a memorable event between 3rd and 6th June 2021.
We would like to take this opportunity to thank everybody that has bought tickets, thank our sponsors, our volunteers and all our bands / acts / performers and to everybody who are supportive and understanding during this time.
Stay safe and we hope to see you all in Ballyshannon, Co. Donegal, Ireland from 3rd to 6th June 2021.
All the latest news and updates regarding Rory Gallagher International Tribute Festival 2021 are now live on our website and hopefully we will have surprise announcements in the coming months
www.rorygallagherfestival.com