DANI ROBINSON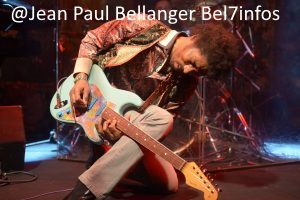 Thank a lot Billy there 2 years,  there are 2 concerts to Paris or i was the produceur to Le Réservoir
Last evening, we lost our brother, our friend and my guitar player, Dani Robinson for The Billy Cox Band Of Gypsys Experience. Dani had been ill for awhile (nothing to do with the current health challenge) and we kept hoping and praying for a miracle. We are devastated. Dani was one of the good guys.
Our deepest sympathy and prayers to Dani's family and to the many beautiful friends, fans and admirers, all who loved him.
Blues, pop, jazz, rock, Dani could play it all and most especially Dani was a Jimi Hendrix aficionado. I could not have asked for a better band-mate. Always there, on and off stage, Dani "had my back".
Our Heavenly Father decided it was time for Dani to come home. And on this side of the veil, Dani will continue to live, for he will live on in the hearts of those who loved him. We are telling ourselves, at least Dani has the chance to meet Jimi now because, you see, Dani's admiration and love for Jimi Hendrix were supreme.
This is all we are able to say, at this time.
I thank my God upon every remembrance of you~ . Philippians 1:3 KJV
Billy & Brenda Cox & Rashaan