ELLIOTT MAZER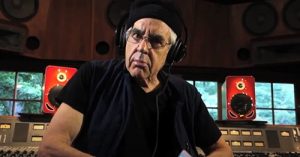 Elliot Mazer (September 6, 1941 – February 7, 2021[1]) was an American audio engineer and record producer best known for his work with Linda Ronstadt, Neil Young, Bob Dylan, The Band, and Janis Joplin.[2] In addition, he has worked on film and television projects for NBC and various independent studios, and taught at University of North Carolina at Asheville and Elon University.
Mazer served as a consultant to Stanford University's Computer Center for Research in Music and Acoustics from 1976-1984. He designed the world's first all-digital recording studio and co-invented "D-zap", which was a device to detect possible shocking hazards in the studio. Mazer served as President of Artificial Intelligence Resources Inc. in the late 1980s. Here, he developed the AirCheck Monitoring system, which he then sold to Radio Computing Services (RCS). From 1989-2005 Mazer worked as Senior Vice President of New Business Development for RCS in New York.[3]
Mazer died on February 7, 2021 in San Francisco, aged 79.[1]
Discography
[
edit
]
| Artist | Title | Label | Year |
| --- | --- | --- | --- |
| Crosby, Stills, Nash and Young | CSNY 1974 | Rhino | 1974-2014 |
| Bob Dylan | The Basement Tapes (2013) | Columbia | 2013 |
| Bob Dylan & The Band | Live At Isle of Wight (1969) | Columbia | 2013 |
| Loni Rose | A Beautiful Mess | GMR | 2009 |
| The Whybirds | In Progress | Left Turn | 2009 |
| Bo Allen | Scarecrow | Left Turn | 2009 |
| Neil Young | Archives Volume 1 | Reprise | 2009 |
| Moonalice | Tell Me It's Okay | A Minor | 2009 |
| Jake Walker | Confidence Man | Left Turn | 2008 |
| Soulfege | Soulfege | Left Turn | 2008 |
| Chelsea On The Rocks | Feature Film Mix | | 2008 |
| Scott McCurry | | Left Turn | 2007 |
| Pegi Young (with Neil Young) | Pegi Young | Warner Bros/Vapor | 2005 |
| Toshi Reagon (produced by Craig Street) | Have You Heard (remix) | Righteous Babe | 2005 |
| Switchfoot | The Beautiful Letdown (remix-Dual Disk) | Columbia | 2004 |
| Frank Sinatra | and Jobim (remix-Dual Disk) | Reprise | 2004 |
| Frank Sinatra | September Of My Years (remix-Dual Disk) | Reprise | 2004 |
| Santana | Supernatural (remix-DVD-A) | Arista | 2003 |
| Santana | Shaman (remix-DVD-A) | Arista | 2003 |
| The Who | Tommy (remix consult-SACD & DVD-A) | Geffen | 2003 |
| The Rat Pack (Sinatra, Martin, Davis) | Live & Swingin' (remix-DVD-A) | Reprise | 2003 |
| Frank Sinatra | At The Sands (remix-DVD-A) | Reprise | 2003 |
| Neil Young | Harvest (remix-DVD-A) | Warner Brothers | 2002 |
| Janis Joplin | Cheap Thrills (remix-SACD) | Columbia | 2002 |
| The Byrds | Live At The Fillmore West | Sony | 2000 |
| Gordon Lightfoot | Song Book (box) | Warner Bros. | 1999 |
| Janis Joplin | Boxed Set | Sony | 1994 |
| Neil Young | Lucky 13 | Geffen | 1992 |
| Leonardo Music Journal | CD #1 | Leonardo | 1991 |
| The Dream Syndicate | Live at Raji's | Enigma | 1989 |
| The Dream Syndicate | Ghost Stories | Enigma | 1988 |
| Jennifer Warnes/Rob Wasserman | Duets | MCA | 1988 |
| William Ackerman | Sampler '88 | Windham Hill | 1988 |
| Dead Kennedys | Give Me Convenience | Alt. Tent. | 1987 |
| William Ackerman | Conferring With The Moon | Windham Hill | 1987 |
| Michael Hedges | Santabears First XMAS | Windham Hill | 1986 |
| Phil Aaberg, M. Hedges | The Shape of the Land | Windham Hill | 1986 |
| Scott Cossu | Reunion | Windham Hill | 1985 |
| Malcom Dalglish | Jogging The Memory | Windham Hill | 1985 |
| Neil Young (Home Video) | Solo Trans | Pioneer | 1985 |
| Michael Hedges | Watching My Life Go By | Windham Hill | 1985 |
| Uptones | Uptones | 415 | 1984 |
| Willie Nelson/Neil Young | Real Cowboys | Columbia | 1984 |
| Neil Young | Old Ways | Geffen | 1984 |
| Neil Young | Everybody's Rockin' | Geffen | 1983 |
| Mazer, Rush, etc. | Digital Domain | Elektra | 1983 |
| Tammy Comstock | Reason To Believe | US/CBS | 1982 |
| Red Steagall | Can't Hold A Workin' Man Down | US/CBS | 1982 |
| Janis Joplin | Farewell Song | Columbia | 1981 |
| Tubes | Sports Fans | Capitol | 1980 |
| Neil Young | Hawks & Doves | Reprise | 1980 |
| Jo Allen & The Shapes | Shimmy Shimmy | 415 | 1980 |
| Dūrocs | Dūrocs | Capitol | 1979 |
| Y & T | Alcohol | London | 1978 |
| Valdy | Hot Rocks | A&M | 1978 |
| Neil Young | Decade | Reprise | 1977 |
| Neil Young | American Stars & Bars | Reprise | 1977 |
| Juice Newton | Come To Me | Capitol | 1977 |
| The Band | The Last Waltz | Warner Bros. | 1977 |
| Dingoes | Five Times The Sun | A & M | 1977 |
| Frankie Miller | The Rock | Chrysalis | 1976 |
| Garfield | Strange Streets | Mercury | 1976 |
| Dane Donohue | I'm Easy, Restless Feeling (45) | Columbia | 1976 |
| David Soul | David Soul | Priv. Stock | 1976 |
| Barclay James Harvest | Time Honored Ghosts | Polydor | 1975 |
| Blue | Life In The Navy | RSO | 1975 |
| Andy Fairweather-Lowe | Spider Jiving | A & M | 1975 |
| Rab Noakes | Never Too Late | Warner Bros. | 1975 |
| Mike D'Abo | Broken Rainbows | A & M | 1974 |
| Leonard Bernstein | Concert for Peace | Columbia | 1974 |
| Neil Young | Tonight's The Night | Reprise | 1974 |
| Neil Young | Time Fades Away | Reprise | 1973 |
| Janis Joplin | Joplin In Concert | Columbia | 1973 |
| Rab Noakes | Red Pump Special | Warner Bros. | 1973 |
| Jack Nitzsche | St. Giles Cripplegate | Warner Bros. | 1972 |
| Jake Holmes | How Much Time | Columbia | 1972 |
| Neil Young | Journey Through The Past | Reprise | 1972 |
| It's A Beautiful Day | @ Carnegie Hall | Columbia | 1972 |
| Neil Young | Harvest | Reprise | 1971 |
| Tommy Live Charity Event | LSO, Solo Artists | Rainbow Theatre | 1971 |
| Jake Holmes | So Close | Polydor | 1970 |
| Area Code 615 | Trip in the Country | Polydor | 1970 |
| Nick Gravenites | My Labors | Columbia | 1969 |
| Michael Bloomfield | Live at Fillmore West | Columbia | 1969 |
| Bob Dylan | Isle of Wight | Columbia | 1969 |
| Area Code 615 | Area Code 615 | Polydor | 1969 |
| Jake Holmes | How Are You? | Polydor | 1969 |
| Gordon Lightfoot | Sunday Concert | U. A. | 1969 |
| Linda Ronstadt | Silk Purse | Capitol | 1970 |
| Big Brother and the Holding Company | Cheap Thrills | Columbia | 1968 |
| Richie Havens | 1984 | Verve | 1968 |
| Ian & Sylvia | Full Circle | MGM | 1968 |
| Paupers | Ellis Island | Verve | 1968 |
| Gordon Lightfoot | Back Here On Earth | U.A. | 1968 |
| Jerry Jeff Walker | Five Years Gone | Atlantic | 1968 |
| Pozo Seco Singers | Shades of Time | Columbia | 1968 |
| James Cotton | Cotton In Your Ears | Verve | 1968 |
| Jake Holmes | Letter to Katherine | Capitol | 1967 |
| Len Chandler | Lovin' People | Columbia | 1967 |
| "ABC Wide World of Sports" | Music Supervisor | | 1966 |
| "Death of a Salesman" | Music Supervisor | | 1966 |
| "Shop on Main Street" | Music Supervisor | | 1966 |
| "Juliet of the Spirits" | Music Supervisor | | 1966 |
| El Trio Los Panchos | Sing Hank Williams | Columbia | 1964 |
| El Trio Los Panchos | Girl | Columbia | 1964 |
| Clark Terry | More | Cameo | 1963 |
| Teddy Wilson | Teddy Wilson | Cameo | 1963 |
| Rufus Thomas | Five On Eight | Cameo | 1963 |
| Maynard Ferguson | Come Blow Your Horn | Cameo | 1963 |
| Clark Terry | Tread Y Lightly | Cameo | 1963 |
| Chubby Checker | Hooka Tooka/Loddy Lo | Cameo | 1963 |
| Chubby Checker | With Sy Oliver | Cameo | 1963 |
| The Tymes | To Each His Own | Cameo | 1963 |
| Jack Elliott | At Main Point | Prestige | 1962 |
| Lightnin' Hopkins | At Main Point | Prestige | 1962 |
| Pony Poindexter | Limbo Rock | Prestige | 1962 |
| Dave Pike | Bossa Nova Carnival | Prestige | 1962 |
References