RONNIE TUTT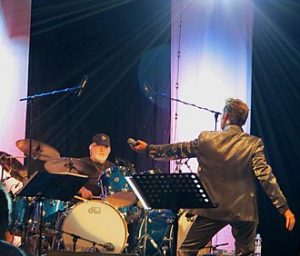 Ronald Ellis Tutt (March 12, 1938 – October 16, 2021)[1] was an American drummer who played concerts and recording sessions for Elvis Presley, the Carpenters, Roy Orbison, Neil Diamond, and Jerry Garcia.[2]
Early life
[
edit
]
Born in Dallas, Texas, United States, Tutt was a native Texan and was involved with music and performing arts for most of his childhood.[2]
TCB Band
[
edit
]
Tutt played for the TCB Band ("Taking Care of Business"), the Elvis Presley touring and recording band, upon the recommendation of TCB keyboardist Larry Muhoberac.
Session musician: Billy Joel, Jerry Garcia, Neil Diamond and others
[
edit
]
Tutt played on Billy Joel's second and third albums. He played on the breakthrough 1973 album, Piano Man[3] (all tracks but "Captain Jack") and 1974's Streetlife Serenade.[4]. Other musician's albums Tutt played on include Emmylou Harris and Gram Parsons.
Around early 1974, Tutt began recording and touring with the Jerry Garcia Band, and also Jerry Garcia's and Merl Saunders' brief Legion of Mary.[5][6] Starting with Garcia's studio album Compliments (1974), Tutt played drums for the Jerry Garcia Band for four years before moving on. During this time, Tutt also played drums on Garcia's studio albums Reflections[7] (1976) and Cats Under the Stars (1978).[8] In 1982, however, Tutt returned to the studio with Garcia to help record Run for the Roses.[9]
After the TCB Band disbanded upon Presley's death and a number of years recording and touring (1974–78) with Garcia, Tutt was invited by Neil Diamond to become Diamond's permanent concert and recording session drummer.
References
[
edit
]
External links
[
edit
]
| | |
| --- | --- |
| | Wikimedia Commons has media related to Ron Tutt. |