Jimmy Cobb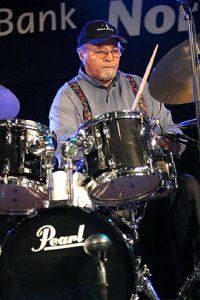 Jimmy Cobb (né le  à Washington D.C. et mort le ) est un batteur de jazz américain.
Après avoir travaillé avec quelques gloires locales, il accompagne Earl Bostic en tournées (1951), puis Dinah Washington, qu'il épouse et dont il devient le directeur musical (1951-1955). Suit une période new-yorkaise en indépendant, jusqu'à ce qu'il soit engagé par Cannonball Adderley (1957-58) et soit brièvement associé à Stan Getz et Dizzy Gillespie. En 1958, il suit Cannonball Adderley chez Miles Davis. Aux côtés du trompettiste, il forme alors, jusqu'en 1962, une exceptionnelle section rythmique avec Paul Chambers et Bill Evans, puis avec Red Garland et, surtout, Wynton Kelly, avec qui il joue régulièrement jusqu'à sa mort.
En 1963, Jimmy Cobb quitte Miles Davis mais continue de travailler avec la section rythmique de Miles, Wynton Kelly et Paul Chambers. Ils se sépareront à la fin des années 1960, lorsque Jimmy Cobb décidera de travailler avec Sarah Vaughan, avec laquelle il restera 9 ans.
À ce moment, Cobb repart en indépendant, pendant les années 1970, 1980 et 1990 et joue pour différents groupes comme ceux de Nat Adderley ou de George Coleman.
Reconnu rapidement comme un accompagnateur de talent, Jimmy Cobb a travaillé avec un grand nombre d'artistes prestigieux tels que Dinah Washington, Pearl Bailey, Clark Terry, Cannonball Adderley, Dizzy Gillespie, John Coltrane, Sarah Vaughan, Billie Holiday, Wynton Kelly, Stan Getz, Wes Montgomery, Miles Davis, Paul Chambers, Kenny Burrell, J.J. Johnson, Sonny Stitt, Nat Adderley, Hank Jones, Ron Carter, George Coleman, Fathead Newman, Art Pepper (Gettin' Together!, 1960) et beaucoup d'autres.
Son œuvre la plus connue demeure Kind of Blue auquel il participe en compagnie de Miles Davis en 1959. Cette œuvre est considérée par beaucoup[Qui ?] comme la quintessence même de l'enregistrement de jazz.[réf. nécessaire] Il participera avec Miles Davis à d'autres enregistrements majeurs de l'histoire du jazz, comme Sketches of Spain, Someday My Prince Will Come ou Porgy and Bess.
Jimmy Cobb joue sur des cymbales SABIAN (modèle HH et artisan), une batterie DW et utilise des baguettes VATER (modèle signature Jimmy Cobb)1.
National Endowment for the Arts – NEA Jazz Master : nomination et récompensé en qualité de Jazz Master en 20092 (N.B. : la plus prestigieuse récompense de la nation américaine en matière de jazz).
Cobb's Corner
Marsalis Music Honors Series
Cobb's Groove
Cobb is back in Italy
So nobody else can hear
Yesterdays
Only For The Pure of Heart
Sophisticated Swing (EmArcy, 1956)
Cannonball Enroute (EmArcy, 1957)
Cannonball's Sharpshooters (EmArcy, 1958)
Jump for Joy (EmArcy, 1958)
Cannonball Adderley Quintet in Chicago (Mercury, 1959)
Cannonball Takes Charge (Riverside, 1959)
That's Right! (Riverside, 1960)
Toshiko Mariano and her Big Band (Vee-Jay, 1964)
Alexandria the Great (Impulse!, 1964)
More of the Great Lorez Alexandria (Impulse!, 1964)
Out of This World (Jazzland, 1960)
Standard Coltrane (Prestige, 1958)
Stardust (Prestige, 1958)
Kenny Burrell and John Coltrane (Prestige, 1958)
Bahia (Prestige, 1958)
Giant Steps (seulement sur Naima) (Atlantic, 1959)
Coltrane Jazz (Atlantic, 1959)
Blue Spring (Riverside, 1959)
Lite Flite (SteepleChase, 1977)
Soul Trombone (Impulse!, 1961)
Pop + Jazz = Swing (Audio Fidelity, 1961) – Aussi connu sous le nom de Just Jazz!
Turning Point (Mercury, 1962)
Four (Verve, 1968)
Straight, No Chaser (Verve, 1968)
Freddie Freeloader (Denon, 1990)
Kelly Blue (Riverside, 1959)
Wynton Kelly! (Vee-Jay, 1961)
Someday My Prince Will Come (Vee-Jay, 1961)
Comin' in the Back Door (Verve, 1963)
It's All Right! (Verve, 1964)
Undiluted (Verve, 1965)
Blues on Purpose (Xanadu, 1965)
Full View (Riverside, 1967)
Last Trio Session (Delmark, 1968)
The Laws of Jazz (Atlantic, 1964)
New and Groovy (Tuba, 1966)
Desperado (Prestige, 1970)
Full House (Riverside, 1962)
Boss Guitar (Riverside, 1963)
Guitar on the Go (Riverside, 1963)
The Alternative Wes Montgomery (Riverside, 1963)
Smokin' at the Half Note (Verve, 1965)
Smokin' Guitar (Verve, 1965)
Willow Weep for Me (Verve, 1969)
Out of the Blue (Blue Note, 1960)
The Mode (Jazzland (1961)
Images (Jazzland, 1961)
For Members Only (Impulse!, 1963)
On a Clear Day (Impulse!, 1966)
Introducing Wayne Shorter (Vee-Jay, 1959)
This Here is Bobby Timmons (Riveside, 1960)
Easy Does It (Riverside, 1961)
From the Bottom (Riverside, 1964)
The Soul Man! (Prestige, 1966)
Got to Get It! (Milestone, 1967)
Live in Japan (Mainstream, 1975)
Ronnie Scott's Presents Sarah Vaughan Live (Pye, 1977)