Julie Felix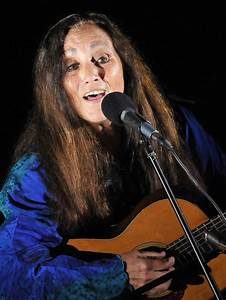 When I was but a spotty youth, our only chance to see good music was on the Beeb Beeb Cee. I used to watch the Julie Felix show every week and I joined her fan club too. This summer I was due to play on the same bill as Julie at a small festival that has been cancelled. Sadly, Julie passed away yesterday. R.I.P. Julie Felix .
Julie Felix est une chanteuse de folk née aux États-Unis mais principalement active au Royaume-Uni depuis le milieu des années 1960.
1968
 : This World Goes Round & Round
1980
 : Colours in the Rain
1982
 : Blowin' in the Wind
1993
 : Branches in the Mist
2002
 : Starry Eyed and Laughing… Songs by Bob Dylan
2003
 : I Walk with Beauty
1966
 : Julie Felix in Concert
2000
 : Live from the QEH Birthday Concert
(en) Colin Larkin, « Felix, Julie », dans The Guinness Encyclopedia of Popular Music, vol. 2, , p. 1429-1430.