Keith Tippett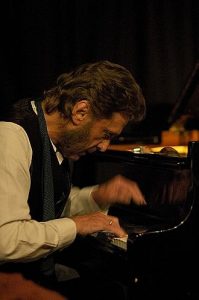 Keith Tippett (né Keith Graham Tippetts le  à Bristol et mort le 1) est un pianiste de jazz et compositeur britannique. Keith Tippett a joué avec le groupe britannique King Crimson en tant que musicien invité au début des années 1970 et a participé aux albums In the Wake of Poseidon, Lizard et Islands
Né à Bristol, d'un père officier de police, Tippett étudie à la Greenway Boys Secondary Modern School dans le quartier de Southmead. Son premier groupe de jazz, le KT7, est créé avec des camarades, alors qu'il est encore à l'école, pour interpréter des titres joués à l'époque par The Temperence Seven.
À la fin des années 1960, il est le leader d'un sextet comprenant Elton Dean au saxophone, Mark Charig à la trompette et Nick Evans au trombone.
Il épouse la chanteuse Julie Driscoll, avec qui il commence à écrire des partitions pour la télévision britannique.
En 1970, il joue à titre de pianiste sur le premier disque de Shelagh McDonald sobrement intitulé Shelagh McDonald Album, avec des musiciens comme Andy Roberts et Keith Christmas à la guitare, Pat Donaldson et Mike Evans à la basse, Ian Whiteman au piano et à l'orgue, Gerry Conway et Roger Powell à la batterie et bien sûr Shelagh au chant et à la guitare. Au début des années 1970, il fonde un big band, le Centipede, réunissant des musiciens jazz et rock issus de la jeune génération. En parallèle de leur concerts, rendus difficiles par la taille du big band, ils enregistrent un double album : Septober Energy.
Avec Harry Miller et Louis Moholo, ils constituent une formidable section rythmique, pour les musiciens les plus innovants du pays, comme le Elton Dean quartet, et le Elton Dean's Ninesense. En parallèle, il joue avec King Crimson, participant au piano à trois albums, dont le deuxième In the Wake of Poseidon sur lequel on retrouve Cat Food chanté par Greg Lake (avec une participation à Top of the Pops). Ses propres groupes, comme Ovary Lodge, s'orientent vers une forme plus contemplative de free jazz. Il continue sa carrière avec le groupe Mujician, et plus récemment (2006) Work in Progress.
Il a participé à de nombreuses formations, notamment en duo avec Stan Tracey, avec sa femme Julie Tippetts
1969 – The Shelagh McDonald Album de Shelagh McDonald – Avec Keith Christmas, Ian Matthews et Julie Driscoll.
1970 – You Are Here… I Am There avec le Keith Tippett Group.
1970 – Dedicated To You But You Weren't Listening – Keith Tippett Group
1971 – Septober Energy de Centipede. – Robert Fripp a produit l'album.
1972 – Blueprint – Avec Roy Babbington, Julie Tippetts, Frank Perry & Keith Bailey. Produit par Robert Fripp.
1973 – Ovary Lodge (RCA) – Avec Roy Babbington & Frank Perry.
1974 – TNT
1974 – Innovation du groupe Amalgam de Trevor Watts
1975 – Ovary Lodge – Avec Harry Miller, Julie Tippetts & Frank Perry. Live au Nettlefold Hall, Londres.
1975 : Peter and the Wolf – Artistes Variés, dont Phil Collins, Bill Bruford, Stéphane Grappelli, Brian Eno, etc.
1976 : Happy Daze de Elton Dean's Ninesense.
1976 : Cruel But Fair de Hugh Hopper, Elton Dean, Joe Gallivan.
1977 : Oh For The Edge de Elton Dean's Ninesense.
1978 : Live at The BBC Radio 3 de Elton Dean's Ninesense.
1978 : Frames
1978 : Keith Tippett's Ark – Frames: Music For An Imaginary Film
1979 – The Unlonely Raindancer
1980 – No Gossip
1981 – Mujician
1981 – First Encounter
1982 – Tern
1984 – A Loose Kite In A Gentle Wind Floating With Only My Will For An Anchor
1984 – On Focus
1985 – Solo Improvisation/Duet Improvisation
1985 – The Supergrass
1986 – Mr Invisible
1986 – Mujician II
1987 – Mujician III
1987 – Couple In Spirit
1990 – The Journey
1990 – The Dartington Concert
1990 – 66 Shades Of Lipstick
1991 – Mujician and The Gregorian Ensemble: Bristol concert
(libéré 2001, deuxième libéré 2005 premiere disque par le nom de Best of Keith & Julie Tippetts)
1993 – The Bern Concert
1993 – Twilight Etchings
1994 – Poem About The Hero
1994 – Une Croix Dans L'Océan
1995 – Birdman
1996 – Couple In Spirit II
(deuxième libéré 2005 disque deux par le nom de "Best of Keith & Julie Tippetts")
1996 – Bladik
1997 – Colours Fulfilled
1997 – Friday The Thirteenth