Steve York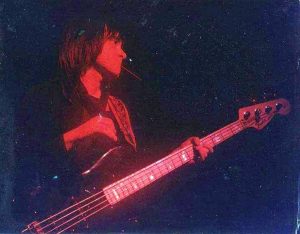 Another sad loss for 2020.
RIP bassist Steve York.
He had been battling stomach cancer since November 2019 and just recently been misdiagnosed Covid positive. But cancer overtook him this morning at his home in Puerto Vallarta, Mexico.
Perhaps not a "household" name. But he was one of rock's most prolific (and talented) players.
His credentials: Graham Bond Organization (1966), Giant Marrowfat (1968), East of Eden (1968-69), Manfred Mann Chapter Three (1969-70), Dr. John Band (1970 & 84), Graham Bond Band (1971), Dada (1971) / Vinegar Joe (1972-73), Gary Moore Band (1973-74), Chris Jagger Band (1974-76), Arthur Brown Band (1976-77), Ariel Bender Band (1975), Elkie Brooks Band (1976-78), Chicken Shack (1978-79), Martha & The Vandellas (1979), Alan Ross Band (1980), Marianne Faithfull Band (1980), Grace Jones Band, Laura Branigan Band (1982-85), Hoopsnakes (1986-88), Bo Diddley Band (1989-2001), T-Bag (1989), Ron Thompson & The Resistors (1989-1992), Percy Strother Band (1991-92), Chuck Berry (1992), Hudson & The Hoodoo Cats, Big John Dickerson Band (2000-05), Ron Thompson & The Resistors (2006-07), The Celebrators .. and that's not the full list!!!
He had played on over 50 albums and was a valued FB friend.