Betty Ann Bobbitt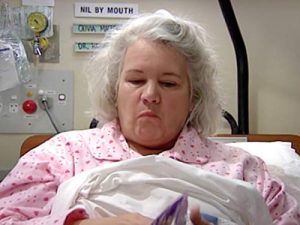 Betty Ann Bobbitt (7 February 1939 – 30 November 2020) was an American actress, director, singer, and playwright based in Australia, with a career that spanned over 60 years emcompassing theatre, television and film.
She was best known for her small screen role as lesbian motherly character Judy Bryant in cult series Prisoner (also known in the UK and US as Prisoner: Cell Block H and Canada as Caged Women) from 1980 and 1985, through 430 episodes, she was the second actress to portray a lesbian character in the series after Carol Burns, who played original character Franky Doyle. Bobbitt was the series second-longest serving actor after original Elspeth Ballantyne, who played Officer Meg Jackson (later Morris), who featured in the entire 692 series run.
On film she had cameo roles appearing opposite Paul Hogan, in several of the Crocodile Dundee series including Crocodile Dundee II (1988), Crocodile Dundee in Los Angeles (2001), and the direct-to-videoThe Very Excellent Mr. Dundee (2020).
Bobbitt died on 30 November 2020, aged 81, following a stroke.[1]
Early career in the United States and Australia
[
edit
]
Bobbitt was born in Manhattan, New York, and grew up in Norristown, a suburb of Philadelphia.[2] She attended a Catholic school and