Connie Han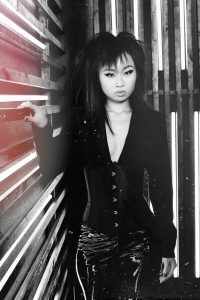 Jazz Pianist Connie Han East Coast Tour
Birdland Jazz Theater
Friday, September 3 & Saturday, September 4
The Steinway Artist is thrilled to bring her electrifying trio to Birdland Jazz Theater this weekend! Pianist/composer Connie Han has been described as "a decisively brazen talent with an exhilarating control of her skills and vision" by All About Jazz. On her latest release on Mack Avenue Records, "Iron Starlet", Han manifests "an intimate clairvoyance into all that has come before her, " with "uncompromising vitality" on the piano. Her powerful vision takes in the full evolution of her forebears, from iconic innovators like McCoy Tyner and Hank Jones through the Young Lions revolution spearheaded by the Marsalis Brothers, Kenny Kirkland and Jeff "Tain" Watts, among others.
$30 + $10 food/drink minimum
Reserve tickets at www.birdlandjazz.com/event/connie-han-trio.
Forte Jazz Lounge
Friday, September 10 & September 11
From Charleston's holycitysinner.com:"Forte Jazz Lounge will present the renowned Connie Han Trio on September 10th at 7 pm and 9:30 pm, and September 11th at 9:30 pm. Han has been hailed as "one of the brightest young stars in jazz" by Jazziz Magazine.
Inspired by the stylings of McCoy Tyner, Hank Jones, and the Marsalis Brothers, she is known for her fusion of power and elegance. Described as "the rare musician with fearsome technical chops and a breadth of historical knowledge," by the New York Times, the Steinway Artist brings a fresh take on tradition through bold and engaging performance."
Reserve tickets at fortejazzlounge.com.
Personnel:
Connie Han (piano)
Ryan Berg (bass)
Bill Wysaske (drums)
Upcoming U.S. Dates
September 28th, 2021: Minneapolis, MN – Dakota Jazz Club
September 30th, 2021: Chicago, IL – Jazz Showcase
October 1st, 2021: Chicago, IL – Jazz Showcase
October 2nd, 2021: Chicago, IL – Jazz Showcase
October 3rd, 2021: Chicago, IL – Jazz Showcase
October 4th, 2021 – Chicago, IL: Jazz Showcase