EMERGENCY
Following discussions with local health ministries and authorities understanding how we can best provide help to Ukrainian people, EMERGENCY has announced its first phase of intervention which we wanted to share with you:
Our 'Politruck' (the largest of EMERGENCY's mobile clinics, pictured above), has arrived in Moldova to provide nursing care, medicine, and psychological assistance to thousands of people fleeing the war in Ukraine, predominantly older people, women and children. 
Andrea, who is part of the Migrations and Emergencies team, tells us more:
"The border situation is what we unfortunately see every day on television. We got organised and understood how we could put our experience at the service of this emergency. 
It was decided together with the Ministry of Health in Moldova, that we will contribute primary care for refugees entering across the border, offering assistance to the thousands of older people, women and children who are arriving from Ukraine.
We have chosen to use the Mobile Outpatient Clinic because in this way we will be able to operate in various places, in order to follow the needs that the unpredictable situation of the conflict imposes on us.
These are people who have had to leave everything behind at a moment's notice, all they have left are the trolleys they drag behind them in neat rows.
If you can, please support our work to bring help to the victims of the war.
We will assist the victims of yet another senseless and cruel war, where it is always the civilians who pay the highest price.
Thank you for what you can do."
EMERGENCY's President, Rossella Miccio, summarises, "Our contribution must be effective. We must ensure our experience working in the midst of conflict is useful to those in need. EMERGENCY wants to be there for the Ukrainian people."
At moments like these, we remember the words of our beloved Gino Strada, whose words are sadly as poignant as they were when speaking in 2015: "Every time, in the different conflicts we have been working in, regardless of who was fighting against whom and for what reason, the result was always the same: war was nothing but killing of civilians, death, destruction. The tragedy of the victims is the only truth of war."
Your support helps us not only adapt and provide care in new situations like what we are seeing in Ukraine, but also makes sure we can continue to build hospitals, train local staff, and treat millions in need of free, high-quality healthcare in countries experiencing longstanding war and poverty.
That really is an amazing thing so sincerely, thank you so very much  Jean Paul
Wishing you all the best, looking forward to speaking again soon,
Elie Rubinstein
Executive Director
EMERGENCY USA
P.S. If you know anyone who might like to support our work and donate, please share this email with them. It's amazing the amount of difference it can make. Thank you again
Good morning Jean Paul,
I wanted to end this tough year with a message from EMERGENCY war surgeon Dr. Khushal to you and all our wonderful supporters:
"I became a war surgeon because of the situation which is happening in Helmand province in Afghanistan.
In this situation, where we are battling war, a Surgical Centre like EMERGENCY's has a huge impact, it's a service for our poor people and injured people.
If EMERGENCY wasn't here, our patients, our people, would fact big problems. They come to the hospital in really bad conditions. Our job and services are very important and necessary, especially in these critical conditions.
First of all, I turn to all the donors who help us: EMERGENCY's is the biggest centre for war victims in the area and region. It's really necessary for the donors to keep providing us with their help.
I can say the donors can be sure that the money they are going to EMERGENCY is being spent in a proper way, so I would like to tell them to keep going with their donations.
Thank you!"
– Dr Khushal. Surgeon at EMERGENCY's Surgical Center for War Victims in Lashkar-Gah, Helmand Province, Afghanistan
As Dr Khushal says, we really could not have helped so many people living in unimaginable circumstances of war and poverty without brilliant people like you Jean Paul
Thank you so much. This year would have been even harder for a lot of people without EMERGENCY, and without the generosity of our supporters.
Here's to the end of this year and to looking towards bigger and brighter things in 2021. Wishing you a happy and healthy new year.
All the best
Elie
EMERGENCY USA
P.S. please do share this with anyone who would like to see Dr. Khushal's message and would like to donate. We could not agree more with his message and how important our donors are.
Jean Paul,
Dr. Khushal is having a break.
He is sat in the garden in EMERGENCY's Surgical Center for War Victims in Lashkar-Gah, Helmand province; one of the most war-torn areas of Afghanistan and, as Dr. Khushal says, the most affected by COVID-19 too.
He removes his mask like a knight taking off his armor and introduces himself:
"I am Dr. Khushal working with EMERGENCY on war surgery for Afghanistan people. I am a senior surgeon working with national and international staff, doing my job for my people"
For everyone, this year has been like no other. But in Lashkar-Gah and for Dr. Khushal, COVID-19 is not the only reason. The surgical center has been treating war victims since 2004, but this year was one of Afghanistan's most violent in recent history.
Thanks to our amazing supporters, the center has treated over 2,100 war victims, a 22% increase on 2019 because of the heightened conflict. A chilling reminder that war does not stop for a pandemic. Fortunately, neither does EMERGENCY.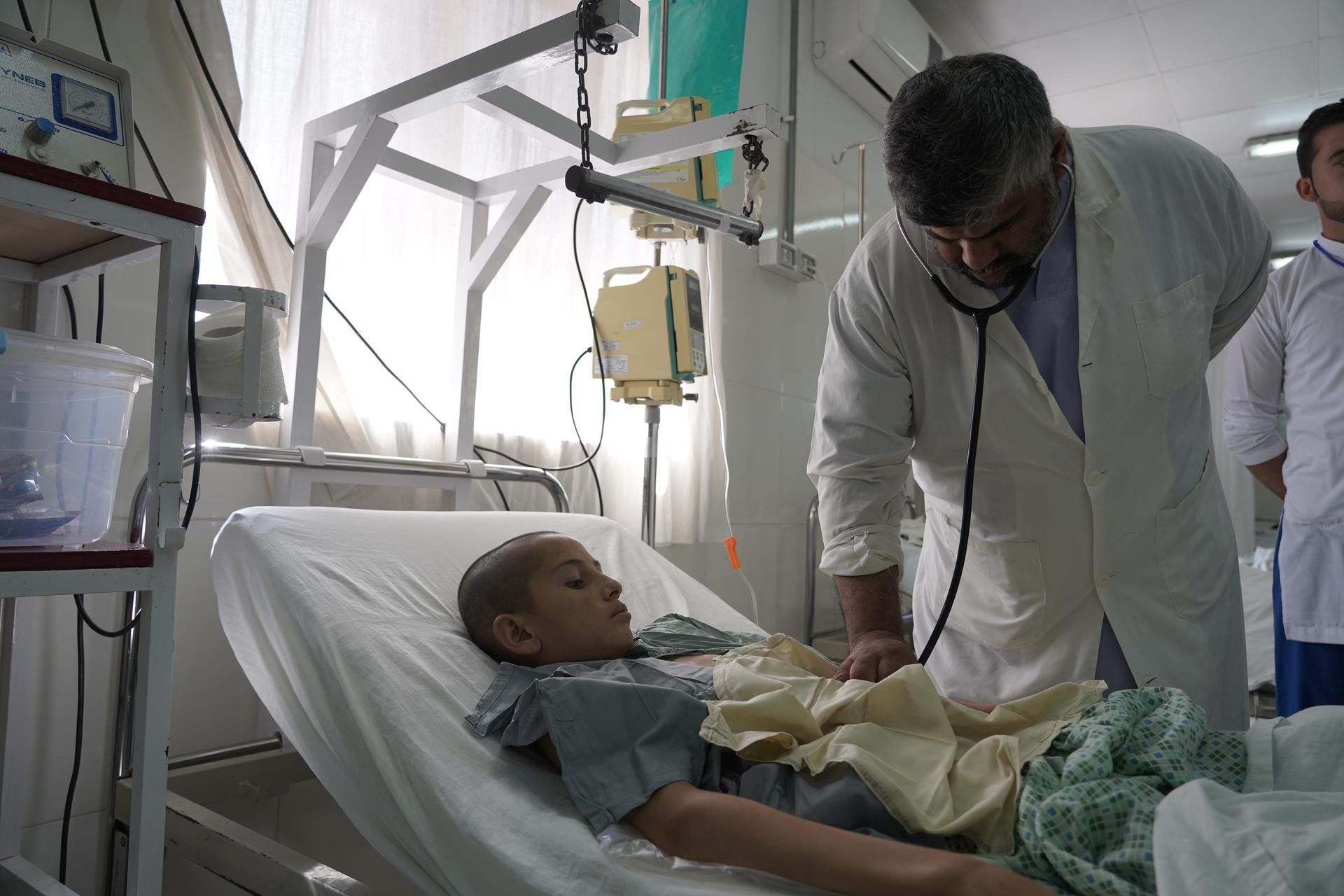 Last year, 260 patients treated at the Lashkar-Gah War Surgery were under five years old. 46% of patients were women or children. Such is the atrocity of war that continues to ravage Afghanistan. 
As he speaks, it is clear Dr. Khushal is impatient to get back to the ward, despite what he has witnessed and the numerous children afflicted by war that he has had to operate on.
No wonder he needs a break.
Dr. Khushal epitomises EMERGENCY's resilience. Its dedication to ensure those affected by war get the treatment they need and deserve, whatever happens. Whether there's a pandemic, or war. We don't stop.
We hope you are proud of EMERGENCY, because it is our supporters that are the reason we are able to never stop. It is this kindness that keeps us going Jean Paul. We are resilient because our donors' support is resilient.
A donation to EMERGENCY can help more than you can imagine. You can help us build hospitals, you can help us treat people living in poverty and war, you can help us train more doctors like Dr. Khushal.
You are important to us, and we know times are tough for many at the moment so we understand if you are unable to donate.
If you can, could you make your support as resilient as us and set up a small regular gift today? Simply click here
It really would mean the world to our doctors like Dr. Khushal who will persevere through any difficulty to treat their patients.
Your support would not only be an expression of gratitude during the Thanksgiving holiday to the doctors and nurses who risk their lives, but it would also allow us to train more local doctors and gift the world with more brilliant medical staff like Dr. Khushal..
If you are able to, please support EMERGENCY today. Your support will make the world a better place now, and for years to come.
Thank you, a thousand times thank you,
Elie
EMERGENCY USA
P.S. We appreciate times are tough for many so please feel free to say no if you are unable to donate. If you know someone who can donate, could you ask them to donate to us?
Hello Jean Paul,
I hope this finds you well.
We have some news from the Mediterranean Sea which we wanted to share with you.
Three rescue missions took place between 10 & 11 November. 255 people have been brought onboard Open Arms, including 12 women and 80 minors – 76 of whom are unaccompanied.
EMERGENCY's medical team onboard have been doing everything they can to treat the survivors. Sadly however, five people did not survive, including a six month old baby named Joseph.
Luca, EMERGENCY's nurse onboard, recounts her experience: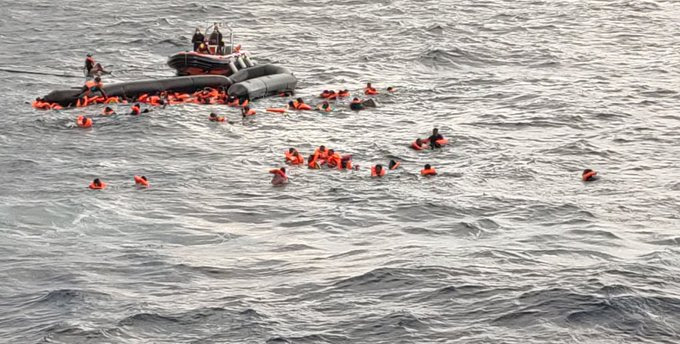 "I don't know where to begin.
 
Tuesday, the first rescue, approximately 85 people. By the end of the operation, joy prevailed on the deck with songs, chants and words of gratitude.
 
Then, Wednesday, the second mission: once we reached the area, I knew it wasn't going to be easy.
 
The dinghy I saw in front of my eyes was the most dilapidated I had ever seen. Suddenly, a tear in the fabric: the dinghy comes apart and 100 people hit the water.
 
A shipwreck. Panic everywhere.
 
We start rescuing people, one by one. Then it's them, two newborns. A 3-month old little girl, who will recover shortly afterwards, and him, Joseph…
He almost looked like a doll, but he had white foam coming out of his mouth and nose. He was freezing to the touch.
 
Together with Ari, the doctor onboard, we did everything we could for him to recover. In the meantime, outside, the first corpses were being retrieved.
Then finally, Joseph made some noises.
The staff come to notify me: "Luca, third rescue underway". And Joseph, he begins falling ill again. So, we start reanimating him. Half an hour. Joseph didn't make it. He only lived for six months.
 
I have never been in a warzone but this felt like one.
I am 30 years old and have spent 10 of those years working as a nurse. I have always been calm at work. But the days I have just endured were the most intense and heavy of my entire life.
 
Why are there people who do not want to open their eyes? Here, in the middle of the sea, people are dying. DYING."
– Luca, EMERGENCY's nurse onboard Open Arms
This is video footage taken from the Open Arms rescue boat. Please be advised some may find these images distressing
Reports of boats in distress have been continuous over the past few days. The Open Arms ship is on its own; it is the only vessel left to currently operate in the Mediterranean after all other humanitarian missions have been stopped under administrative pretexts.
If we had not been there, what would have happened to these people?
Your kindness has meant that we were able to be there. War, pandemic, whatever happens, we can be there, thanks to you Jean Paul
Sincerely, thank you
Elie
---

---

February 22, 2018

Dear Friend,

On Thursday, February 22, 2018, EMERGENCY USA will join other organizations, advocates, and individuals to celebrate National Heart Valve Disease Awareness Day to increase awareness of the risks of heart valve disease (HVD) and to improve detection and access to life-saving treatment.

Our Salam Center for Cardiac Surgery in Khartoum, Sudan offers high quality, free treatment to patients with congenital and acquired surgical diseases. The documentary, "Open Heart", is the story of eight Rwandan children who leave their families behind and embark on a life or death journey to receive high-risk open-heart surgery at our center. It was nominated for an Academy Awards in the "Documentary Short" category in 2013.

The center has treated patients from over 28 countries. International staff oversee the training of local medical staff in order to ensure the maintenance of the highest standards of care and professionalism. 

Millions of people suffer from heart valve disease around the world.

At least five million Americans have heart valve disease, however, public awareness about the disease is shockingly low. A survey of more than 2,000 adults found that three out of four Americans knew little to nothing about heart valve disease.

Today, in observance of National Heart Valve Disease Awareness Day, we are spreading the word to educate people on the risk factors for valve disease, the signs and symptoms they should learn, and the importance of early detection and treatment in reducing HVD related deaths.

The awareness day's theme is "Listen to Your Heart." EMERGENCY USA encourages people to know their risk factors, listen to their hearts, get checked regularly and know where to turn if they notice symptoms. For more information please visit http://www.valvediseaseday.org

Sincerely,

Elie Rubinstein
Executive Director
Dear Jean Paul,EMERGENCY NGO mission is to provide free of charge and high quality health care to children, men and women affected by war and poverty. The organization is currently working in Afghanistan, Central African Republic, Iraq, Italy, Sierra Leone, and Sudan. A teaching hospital for Pediatric Surgery is under construction in Uganda.
EMERGENCY USA specifically supports operations in Afghanistan, Iraq, Sierra Leone and Sudan.
I would like to share with you that EMERGENCY USA is an authorized internationalnonprofit in the Combined Federal Campaign (CFC). This means we have been reviewed by the United States Office of Personnel Management (OPM), audited by an independent auditing firm, and examined and approved by one or more CFC Federal evaluation committees.
Pledges made by Federal civilian, postal, and military donors during the campaign season support eligible nonprofit organizations that provide health and human service benefits throughout the world. When you make a pledge to EMERGENCY USA, lives are saved. Every contributions counts and every dollar increases our power to make a difference.
If you are Federal civilian, postal, or military personnel, please make your CFC pledge by December 15. EMERGENCY's CFC code is 72137.
Please share this information with family and friends who may have the ability to enroll in workplace giving through the CFC.
Do not qualify to make a donation through the CFC? Please consider making a gift to EMERGENCY USA!
https://emergencyusa.networkforgood.com/projects/2...
Elie Rubinstein
August 4th, 2017

EMERGENCY USA is delighted to announce our partnership with the luxury Swiss timepiece designers Todd & Marlon. Online sales of the exquisitely crafted Todd & Marlon watches will contribute to the surgical and medical assistance EMERGENCY provides to innocent men, women, and children in countries besieged by war around the world.

You can support the mission of EMERGENCY USA today when you purchase a watchon 

Todd & Marlon's website

. The award-winning watchmakers are offering a 10% discount to buyers who enter the promotional code 

EMERGENCY

 at website checkout. Todd & Marlon will further extend support by pledging 10% of profits made through code-applied sales to EMERGENCY.

Todd & Marlon timepiece creations leverage old-world craftsmanship to create modern artworks that showcase an Italian sense of style and beauty, with Swiss precision and attention to detail. "We are encouraged by the work of EMERGENCY to save lives and sustain change in countries where time is of the essence to end war and poverty," said Vincenzo Carrara, Todd & Marlon CEO.

Since 1994, EMERGENCY medical teams have provided assistance to over 8 million people in countries throughout the world, more than half of whom were children. EMERGENCY has trained over 10,000 medical professionals and has set a path for sustainable healthcare development in 17 countries, where the foundations it has laid will serve generations to come.
Support our lifesaving work today by visiting 

Todd & Marlon's website

 to own one of their fashionable watches, or click the link below to make your tax-deductible gift directly to EMERGENCY USA.
Peaches, Abd-al Malik, Charles de Goal, Fantazio, JC Satan, La Colonie de Vacances, Bruit noir …
NEWSLETTER CULTURE D'IMAGES MAI 2017
EDITO
Emergency (docu et websérie)
Le documentaire Emergency propose un regard sur les petits et moyens lieux de concerts en France à travers cinq exemples qui sont la Clef à Saint Germain-en-Laye, l'Ubu/les Transmusicales à Rennes, Mains d'Oeuvres à Saint-Ouen, le Rack'am à Brétigny sur Orge et le Marché gare à Lyon, entre émergence artistique et urgence du contexte. Notre démarche est de transmettre des informations sur le secteur des musiques actuelles dans sa complexité et ses enjeux artistiques, sociaux et politiques.
La problématique actuelle est la contradiction dans laquelle le secteur se trouve. En effet, ce secteur artistique est passé en quelques décennies d'une transcription plus ou moins fidèle des musiques anglo-saxonnes à des projets totalement originaux et décomplexés avec des groupes comme Gablé, Cheveu et plein d'autres qui sont probablement uniques au monde. La musique est partout en France avec des scènes prodigieuses dans le garage, la noise, le hip hop, l'électro et un secteur qui s'est construit sur le modèle social-culturel français lié à l'éducation populaire et qui s'est appuyé sur tous les mécanismes que l'on trouve dans les domaines artistiques plus anciens (cinéma, théâtre) que ce soit la redistribution des taxes type CNC, l'intermittence, les subventions etc …
Ce modèle est cependant menacé dans de multiples endroits pour des raisons économiques et/ou idéologiques. Les élections municipales de 2014 ont par exemple portés un coup sur plusieurs projets historiques comme ce fut le cas à Evreux où le festival Le Rock dans tous ses Etats a été liquidé en quelques mois après 33 éditions.
La websérie Emergency
propose un épisode mensuel de 15 minutes environ diffusé sur internet (
Facebook Culture d'Images
). Elle continue de suivre les lieux du documentaire en s'ouvrant à d'autres et en suivant deux fils l'un plus politique sur les lieux de concerts, leur rôle, leurs enjeux et leurs problématique et l'autre plus artistique avec une forte thématique sur l'émergence artistique, notamment des indés, l'idée étant de faire résonner ces deux thématiques ensemble. L'un des points qui nous semble important est en effet de tenter de créer des passerelles entre toutes les structures qui composent le très riche champ des musiques actuelles. La France a le tissu d'équipements culturels le plus riche au monde et des scènes artistiques incroyables. La question se situe au niveau des passerelles entre les uns et les autres et ce n'est pas simple car cela touche des questions artistiques mais également de gouvernance des lieux, d'ouverture des communautés et bien évidemment des questions économiques et politiques.
Le premier épisode de la websérie Emergency se déroule entre Mains d'Œuvres et le festival La Ferme électrique à Tournan-en-Brie (77). Le lieu pluridisciplinaire situé à Saint-Ouen s'est vu durement touché après les élections municipales de 2014 et une alternance politique qui lui a valu la suppression complète de ses subventions municipales. Aujourd'hui, il tente de subsister et de se maintenir dans ses murs sans financement de la ville. La Ferme électrique est un festival situé en zone rurale qui propose en 2017 une huitième édition dans une ferme décorée pour l'occasion et avec une jauge réduite. A noter que c'est le seul événement connu par nos soins en banlieue a faire rameuter les parisiens.
Websérie Emergency épisode 1 avec Juliette Bompoint (Mains d'Œuvres), Guillaume Gilles (la Ferme électrique), Fantazio et Costes, Bruit noir, le Prince Harry, Charles de Goal …
Live Report Vidéo
Chauffer dans la noirceur 2016Montmartin-sur-Mer (Manche)
Le festival Chauffer dans la noirceur a proposé en 2016 sa 24ème édition à Montmartin-sur-mer dans la Manche. Ce festival est incroyable par sa situation géographique tout d'abord. Il est situé au bord de la mer tout à côté de la plage sur une zone protégée par le conservatoire du littoral qui l'oblige à conserver une taille limitée. Ensuite, il propose quatre jours et quatre nuits de festivités avec une ouverture gratuite en journée du site où se déroulent de nombreux spectacles de rue, des conférences, de la danse et de la musique. Le soir trois scènes dont un très petit chapiteau proposent une affiche artistique incroyable mélangeant scènes locales de toute la France, groupes pointus et têtes d'affiches nationales et internationales.
Live report Chauffer dans la noirceur 2016 avec Peaches, Abd-al-Malik, JC Satan, le Bal des Enragés, La Colonie de Vacances, Bagarre, Poil, Shiko shiko, Angle mort et Clignotant …
Copyright © 2017 Association Culture d'Images, All rights reserved.
Les nouvelles vidéos sur le secteur musical de Culture d'Images !Our mailing address is:

Association Culture d'Images

10 rue Panserot

Lardy 91510

France