NORTH STREAM RACE
Deutscher Touring Yacht-Club (Germany) wins first leg
Highlights from Leg 1 – Kiel to Copenhagen
Offshore Sailors and Prestigious Yacht Clubs
Interview with Jochen Schümann
Newsletter #2 | 28th August 2017
Dates of Nord Stream Race 2017
When?
25-26 August
27-28 August
31 Aug. – 02 Sept.
04-05 September
06-07 September
Where?
Kiel/Germany, NRV & KYC
Copenhagen/Denmark, KDY
Stockholm/Sweden, KSSS
Helsinki/Finland, HSK
St. Petersburg/Russia, SPBYC
Deutscher Touring Yacht-Club wins first leg to Copenhagen 
Photo: Nord Stream Race/ Lars Wehrmann
Deutscher Touring Yacht-Club (Team Germany) from near Munich has won the first leg of the 2017 Nord Stream Race from Kiel to Copenhagen. This 1,000 nautical mile offshore yacht race runs from Kiel, Germany, to St. Petersburg, Russia, in four legs.
Highlights from Leg 1 – Kiel to Copenhagen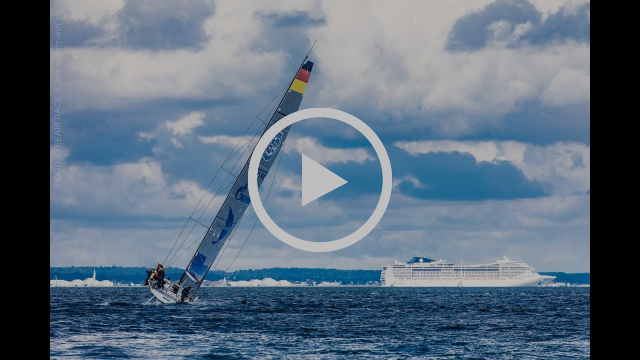 Leg 1 of our reloaded Nord Stream Race is done
Offshore Sailors and Prestigious Yacht Clubs
Photo: Nord Stream Race/ Lars Wehrmann
The Club Swan 50 may be suitable for weekend cruising but she is also a wolf in sheep's clothing. Winner of multiple Volvo Ocean Races, Argentinean designer Juan Kouyoumdjian has incorporated many of the lessons from the ocean-going Volvo Open 70 into this powerful 50-footer: twin rudders, a no-compromise bowsprit, a deck-stepped three-spreader carbon mast, and square-topped mainsail.
Interview with Jochen Schümann
Photo: Lars Wehrmann
"The ClubSwan50 is a modern one-design class much like the J/70 – only significantly larger, more powerful and even more demanding in handling for the crew."
Partner of Nord Stream Race
Organiser: Saint Petersburg Yacht Club
Established in 2010, St. Petersburg Yacht Club focuses on all-round development of sailing in Russia. The club's activities cover both competitions and training programs for sailors of different ages. St. Petersburg Yacht Club has an active event calendar throughout the year across national and international events for youth, Olympic and professional sailors. Key goals are to raise the profile of sailing to the highest level within Russia and to represent the country at major regattas worldwide.
More about SPBYC: www.yacht-club-spb.com
Main Sponsor: Gazprom
Gazprom is a global energy company with its businesses extending across Russia and throughout more than 40 countries worldwide. Gazprom has long believed it has a responsibility to give back to the communities it works within and its social goals to promote a healthy lifestyle, a harmonious upbringing of a physically strong generation and worthy performances at International sporting events were a natural fit with the Nord Stream Race.
More about Gazprom: www.gazprom.com
Sponsor: Nord Stream AG
Nord Stream is a natural gas pipeline which links Russia and the European Union through the Baltic Sea. The first of Nord Stream's two parallel pipelines became operational in November 2011, the second in October 2012. The total capacity is enough to supply more than 26 million European households.
More about Nord Stream: www.nord-stream.com
Class Partner: ClubSwan 50
Nautor's Swan has always offered high-performance racing yachts to complement its classic range of cruising Swans. Today the yard uses its new ClubSwan models to test the most modern trends in design, materials and solutions, refining technologies that will then be used to the benefit of the cruising models. But with the ClubSwan 50, Nautor has pushed the limits, proposing a yacht that is a small revolution in performance and pure sailing pleasure.
More about ClubSwan 50: www.clubswan50.com
Clothing Supplier: Marinepool
Marinepool is widely regarded as one of the leading sailing clothing and maritime lifestyle brands with sales in 43 countries worldwide and is the leading producer of life jackets for the leisure and sport market in Europe. The company's vast product portfolio comprises performance sailing clothing and outdoor garments, functional fashion for sailing and water sports as well as lifestyle clothing lines for women, men and kids in a unique maritime style.
More about Marinepool: www.marinepool.de