PHIL CHEN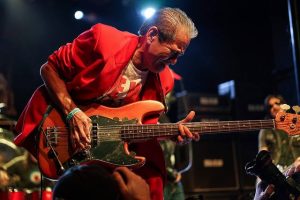 Phil Chen (born 25 December 1940) is a well-known Jamaican bassist. He was one of England's most utilized session bassists during the 1970s and 1980s, including Jeff Beck, and the Rod Stewart band from 1977 to 1980, but is probably best known for his later work with Ray Manzarek and Robby Krieger of The Doors.
Life and career

[edit]

Phillip Chen was born and spent much of his early life in Kingston, Jamaica. He is of Chinese ancestry. He attended St. George's College and played in the Vikings in the 1960s and in bands on the club circuit in Kingston before relocating to England in the late 1960s.[1] Chen has worked with numerous nationally known musicians during his career since the '60s. He first joined Jimmy James and the Vagabonds before realizing that he could make much more money as a session musician. He went on to record with Jeff Beck (identified as "Phil Chenn" on the album cover) on his album Blow by Blow,[1] Donovan on Cosmic Wheels and Joan Armatrading on Back to the Night. He also joined The Butts Band led by Doors members Robby Krieger and John Densmore and recorded their self-titled debut with them. He is also known for having been a member of Brian May's Star Fleet Project, along with Eddie Van Halen, in 1983.[2]

Other musicians Chen has performed and recorded with include Rod Stewart (playing on "Hot Legs" (as well as in the videoclip), "Da Ya Think I'm Sexy?" and "Young Turks"),[1] Pete Townshend, Eric Clapton, Ray Charles, Desmond Dekker, Jerry Lee Lewis, Bob Marley, Jimmy Cliff, Jackson Browne, Jeff Beck, Dave Edmunds, and Linda Lewis (on "Rock-a-Doodle-Doo"), among others.[3]

In 2004, he joined keyboardist Ray Manzarek and guitarist Robby Krieger (whom he had worked with in The Butts Band) in their Doors reformation, Manzarek–Krieger. He was also a member of Krieger and Manzarek's Doors Tribute Band 'Riders on the Storm', as well as playing in ska and reggae soca bands, including Trinidadian steel drummer Einstein Brown's Sapadilla reggae/soca band which included Pico Rivera guitarist Dale Hauskins gigging around locally to his home in southern California.[1]

In August 2014 it was announced that he would receive the Order of Distinction in October that year.[4]
References

[edit]
External links

[edit]
| | |
| --- | --- |
| | Wikimedia Commons has media related to Phil Chen. |
| | |
| --- | --- |
| | This Jamaican biographical article is a stub. You can help Wikipedia by expanding it. |