Ronan O'Rahilly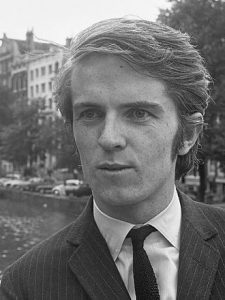 Ronan O'Rahilly (21 May 1940 – 20 April 2020) was an Irish businessman best known for the creation of the offshore radio station, Radio Caroline, and as manager of George Lazenby, who played James Bond in only one film.
Biography
[
edit
]
Background
[
edit
]
O'Rahilly's parents owned the private port of Greenore in Carlingford Lough, County Louth. His grandfather Michael O'Rahilly (The O'Rahilly) was an important figure in the quest for the independence of Ireland, a leader in the Easter Rising, who died in the fighting in Dublin in April 1916.
London club scene
[
edit
]
Prior to his involvement with Radio Caroline, O'Rahilly ran the Scene club in London's Soho district and managed a number of pop music artists, including Georgie Fame and Alexis Korner. He recorded a Georgie Fame record on his own independent label, unheard of at the time. He took the record to the BBC to try to get it played. He discovered that the record industry was dominated by EMI and Decca. He then tried to get it played on Radio Luxembourg and again found that the shows were 'owned' by major labels EMI, Decca, Pye and Philips. They were essentially 'payola' shows, and featured only music from the paying label. He said "I have recorded the guy, so I can't get it played, so we have to start a radio station."
Radio Caroline
[
edit
]
He therefore set about creating the pirate radio station Radio Caroline, which broadcast from a ship, the MV Caroline anchored in international waters off the coast of Essex, eastern England.[1][2][3] In practice, the idea of Radio Caroline was based partly on a plan by Australian music publisher Allan Crawford (who had spent almost two years planning the launch of Radio Atlanta) and also on Radio Veronica which had been broadcasting off the Netherlands since 1960. Radio Caroline was largely funded by financier John Sheffield (great uncle of Samantha Cameron) and Carl Ross (creator of the Ross fishery frozen food business and grandfather of David Ross, the co-founder of Carphone Warehouse) and publisher Jocelyn Stevens.
Film industry
[
edit
]
He later became involved in the production of a number of films, including as executive producer on the Marianne Faithfull film, Girl on a Motorcycle and Two Virgins featuring John Lennon and Yoko Ono.
O'Rahilly became manager of the Australian model-turned-actor George Lazenby, who played James Bond in one film. During production of the 1969 James Bond movie On Her Majesty's Secret Service, O'Rahilly talked Lazenby into refusing a seven-movie Bond contract on grounds that the James Bond character was out of touch with the times, and would not successfully continue into the 1970s.[4] Of this advice, Roger Moore said in his autobiography, My Word Is My Bond, "George took some bad advice … I knew George then and have met him many times since. He admits he made a mistake". O'Rahilly also appeared in Lazenby's film Universal Soldier where both men were credited as executive producers.
In the 1970s O'Rahilly, noticing that people "found it easier to talk about hate than love", developed the philosophy of "Loving Awareness", which has been heavily promoted on Caroline ever since. In 1976 an album of songs based on the concept was recorded by the Loving Awareness Band, a group assembled by O'Rahilly for the purpose.
Later life
[
edit
]
On Monday 3 December 2007, O'Rahilly was inducted as a Fellow of the Radio Academy. O'Rahilly was inducted into the Hall Of Fame at the PPI Radio Awards, held at the Lyrath Hotel, Kilkenny, Ireland on 12 October 2012.[5][6]
In September 2013, O'Rahilly was reported to be suffering from vascular dementia and to have returned to live in County Louth, Ireland, in sight of the port of Greenore where Radio Caroline was "born" 50 years ago.[7]. He had been ill for some time and suffered from vascular dementia, but in the end swallow pneumonia became fatal. He died on 20 April 2020 from vascular dementia.[8][9]
References
[
edit
]
External links
[
edit
]