WILLIAM SHELBY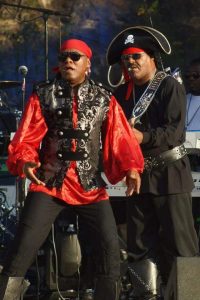 (October 27, 2021) This morning we say a sad goodbye to keyboardist and singer William Shelby, who played a key role in two classic R&B groups, first as a co-founder of Dynasty and later as part of Lakeside. Lakeside founding member Steve Shockley posted the news on social media this morning.
For the last 30 plus years, if I looked to my right…. There was one man standing next to me on stage… never missing a show. Sometimes he was so close, that he would accidentally step on my guitar pedals and all kinds of sounds would ring out… we would just laugh and chalk it up to entertainment…. It's with the heaviest heart that I tell you… Lakeside lost one of our Pirates last night… with no warning.. he passed away… Mr William Shelby. God must have other plans for him… we wrote our biggest song together "And the Beat goes on"…With Leon Sylvers…He was also a member of the Group Dynasty…. His list of credits are too many to mention….But one things for sure…. He was more than a band member, we were Brothers, with his Big Brother Thomas Shelby, leading the way….Dang it Hurts to lose Will, and he will be missed… But Gods got this!!…. Later on my Brother… Rest In Peace and let us know what Heaven's Like….
With the Leon Sylvers band Dynasty, Shelby helped create a string of R&B hits, including "I Don't Want to Be a Freak," "I've Just Begun to Love You," and "Do Me Right." The band's hits continued from 1979 through most of the 80s. Shelby was also a prolific songwriter during this period, co-writing the Whispers smashes "And The Beat Goes On" and "It's a Love Thing," as well as Shalamar's "I Can Make You Feel Good."
After Dynasty slowed down, Shelby joined is brother Thomas as part of R&B hitmakers Lakeside, whose hits had mostly stopped by then but remained a touring force to this day, with William Shelby as in important part of the show.