Onaje Allan Gumbs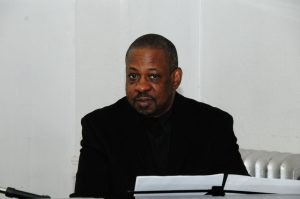 Onaje Allan Gumbs (born Allan Bentley Gumbs, September 3, 1949) is a New York-based pianist, composer, and bandleader.[1][2]
Professional career
[
edit
]
In 1971, Leroy Kirkland introduced Onaje to the Detroit guitarist Kenny Burrell, to whom Onaje gave a demo tape. The following day, Onaje received a call to play with Burrell at Baker's Keyboard Lounge in Detroit. This work led to further performances with major jazz musicians such as bassist Larry Ridley as well as The Thad Jones/ Mel Lewis Orchestra. During those early 1970s, Onaje replaced Nat Adderley, Jr. in a contemporary jazz ensemble called Natural Essence. At that time in the course of two years, some of the personnel of this group included drummer Buddy Williams, bassist Alex Blake, trombonist Earl McIntyre and on percussion, T. S. Monk.
Gumbs adopted the name Onaje in the early 1970s; it means "the sensitive one".[3]
"His association with the New School for Jazz and Contemporary Music in New York and his work with the Litchfield Jazz Camp in New Milford, Conn., allow him to expand his vision and shape young minds."[3]
Solo works
[
edit
]
On January 24, 2010, Onaje suffered a stroke. Miraculously, he stayed in the hospital for only two days. By December of that same year, an album was released in Japan entitled Just Like Yesterday. On this CD Onaje was accompanied by Omar Hakim, Victor Bailey, Marcus McLaurine, William S. Patterson and Chuggy Carter. Any visible signs of the stroke had since vanished. In February 2015, Onaje suffered another medical setback. Although he was hospitalized for two weeks, he recovered and was able to return to work doing what he does best, composing, arranging and playing piano.
Discography
[
edit
]
As leader
[
edit
]
| Year recorded | Title | Label | Personnel/Notes |
| --- | --- | --- | --- |
| 1976 | Onaje | SteepleChase | Solo piano[4] |
| 1980s | Bloodlife: Solo Piano Improvisations Based on the Melodies of Ronald Shannon Jackson | Ejano Music | Solo piano; released around 2014[3] |
| 1988? | That Special Part of Me | Zebra | |
| 1989? | Dare to Dream | Zebra | With Roger Byam (tenor sax), Jef Lee Johnson and Kevin Eubanks (guitar), Oscar Carataya (bass), Buddy Williams (drums), Steve Thornton (percussion), Gerri Griffin and Dennis Collins (vocals)[5] |
| 2000 | Return to Form | Half Note | With Rene McLean (alto sax), Marcus McLaurine (bass), Payton Croslley (drums), Gary Fritz (percussion) |
| 2004 | Remember Their Innocence | Ejano Music | With Sadao Watanabe (alto sax) |
| 2006 | Sack Full of Dreams | 18th & Vine | With Mark Shim (tenor sax), Bob DeVos (guitar), Marcus McLaurine (bass), George Gray (drums), Gary Fritz (percussion), Obba Babatunde (vocals) |
| 2010? | Just Like Yesterday | Pony Canyon | |
Main source:[6]
As sideman
[
edit
]
With Nat Adderley
With T. K. Blue
Follow the North Star (JaJa, 2008)
With Betty Carter
With Norman Connors
With Carlos Garnett
With Toninho Horta
With Bennie Maupin
With Cecil McBee
With Mark Mosley
With Avery Sharpe
Running Man (JKNM, 2011)
Sojourner Truth: Ain't I a Woman (JKNM, 2013)
With Woody Shaw
With John Stubblefield
With Charles Sullivan
With Lenny White
References
[
edit
]