MARK LANNEGAN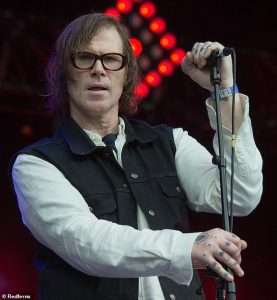 Mark William Lanegan, né le  à Ellensburg et mort le  à Killarney (Irlande)1, est un chanteur américain, connu pour son timbre rauque, successivement membre de Screaming Trees, Mad Season, Queens of the Stone Age, The Gutter Twins et The Jury. Il est décédé le mardi 22 février 2022 dans sa maison de Killarney en Irlande.
Originaire de Seattle, il a travaillé avec des musiciens tels que Kurt Cobain (au sein du groupe The Jury), Layne Staley (au sein de Mad Season), Isobel Campbell, Twilight Singers (dont le leader Greg Dulli est l'autre membre des Gutter Twins), Mondo Generator, Melissa Auf Der Maur, Jeffrey Lee Pierce du Gun Club, Martina Topley-Bird, Masters of Reality, Gérard Manset, The Desert Sessions, Mike Watt.
The Jury, quatuor formé par Mark Lanegan et Kurt Cobain (avec Mark Picquerel des Screaming Trees à la batterie et Krist Novoselic de Nirvana à la basse), naquit en , et reposait sur l'amour des deux musiciens pour les chansons du bluesman Leadbelly. Mais le projet n'a jamais abouti à un disque, et on ne retrouve que Where Did You Sleep Last Night sur l'album de Mark Lanegan, The Winding Sheet, où l'on reconnait la voix de Kurt Cobain, une chanson reprise en 1993 lors de l'Unplugged de Nirvana – trois autres titres (Ain't it a shame, They hung him on a cross et Grey Goose) figurant sur le coffret de Nirvana With the Lights Out, Mark Lanegan n'officiant sur ceux-ci qu'à la guitare.
Mark commence sa carrière en tant que chanteur dans les Screaming Trees. Ils enregistreront sept albums durant leurs onze années d'activité. Le groupe faisait partie des pionniers du grunge, mais n'a pas connu la popularité de Nirvana ou de Pearl Jam.
En parallèle des Screaming Trees, Mark commence sa carrière solo en 1990 avec « The Winding Sheet », publié sur le label Sup-Pop. Kurt Cobain est présent sur cet album, au chant sur Down in the dark, et à la guitare (accompagné de Krist Novoselic à la basse) sur Where did you sleep last night. Les deux albums suivants, Whiskey For The Holy Ghost en 1994 et Scraps At Midnight en 1998 connaissent un franc succès auprès de la critique mais restent confidentiels. Mark Lanegan sort ensuite un album de reprises en 1999, I'll Take care Of You comprenant des covers du Gun Club, Fred Neil, Leaving Trains ou encore Buck Owens. Il clot sa période blues et folk à travers le très bel album Field Songs marquant l'arrêt de sa longue collaboration avec Mike Johnson (ancien bassiste de Dinosaur Jr).
Quittant le label Sub Pop pour un nouveau contrat chez Beggars Banquet, désormais marqué de l'empreinte des Queens of the Stone Age, les futures productions en solo de Lanegan sont nettement plus rock et expérimentales. Ce virage s'amorce avec la sortie d'un EP ovni, Here Comes That Weird Chill en 2003, puis avec l'album Bubblegum sorti en 2004, premier véritable succès commercial de Mark en solo. Si on retrouve parfois les ambiances folk et bluesy des débuts dans ces deux albums, c'est surtout le virage rock et heavy que l'on remarque à leur écoute. Des morceaux comme Skeletal History, Methamphetamine Blues, Driving Death Valley Blues ou le stoogien Sideways In Reverse illustrent toute l'influence des Queens of the Stone Age sur la carrière solo de Lanegan. L'Anglaise PJ Harvey, Josh Homme et Nick Oliveri évidemment, Chris Goss ou encore Greg Dulli collaborent à ses dernières livraisons. Fait nouveau également, Mark tourne de façon beaucoup plus régulière et un peu partout dans le monde. Il donne d'ailleurs son premier concert parisien en  au Nouveau Casino.
À la suite de son départ des Queens of the Stone Age en 2005, il met sa carrière solo entre parenthèses et entre dans une démarche collaborative. Il joint l'ex-membre de Belle and Sebastian, Isobel Campbell, pour enregistrer Ballad Of The Broken Seas, dans une sorte de remake de ce qu'avaient déjà pu faire Lee Hazlewood et Nancy Sinatra. Il part ensuite en tournée avec Greg Dulli et son nouveau projet, The Twilight Singers, prolongement atmosphérique d'Afghan Whigs, avec qui il monte aussi un projet très attendu par les fans : The Gutter Twins.
Dernière livraison en date, et sans doute une des plus étonnantes, sa participation sur 8 titres du deuxième album des Soulsavers, en réalité deux DJs et producteurs anglais. L'album, It's Not How Far You Fall, It's The Way You Land sorti chez V2 en , est un recueil de chansons mêlant electro, hip-hop, gospel, country et des ambiances lourdes à la Tom Waits. Ce curieux mélange s'avère pourtant très judicieux et la désormais célèbre voix rauque de Lanegan colle parfaitement à l'ambiance musicale concoctée par les deux anglais. Le titre phare Revival semble avoir conquis les radios indies et des titres comme Ghost Of Me, Paper Money, ou encore les reprises des Rolling Stones et de Neil Young respectivement No Expectations et Through The Sails donnent à l'album une saveur particulière. Plus récemment, en 2014, il a chanté avec Gérard Manset sur la chanson Cover me with flowers of mauve dans laquelle Axel Bauer joue de la guitare électrique et qui se trouve sur le disque de l'artiste français Un oiseau s'est posé paru le . Il reprend également la même année avec Bertrand Cantat Desire by Blue River du Gun Club, sur l'album hommage à Jeffrey Lee Pierce, The Jeffrey Lee Pierce Sessions Project Vol. 3 – Axels & Sockets.
Mark Lanegan prête sa voix à deux chansons de l'album Above, sorti en 1995. Mad Season est alors composé de Layne Staley (Alice In Chains) Mike McCready (Pearl Jam), Barrett Martin (Screaming Trees), John Baker Saunders. Après une longue attente, le projet d'un deuxième album ne verra finalement pas le jour. Une réédition d'Above sortira toutefois en 2013 incluant cinq morceaux inédits composés avant la mort de Layne Staley dont deux sont chantés par Mark Lanegan.
Mark Lanegan devient le troisième chanteur, à plein temps, de Queens of the Stone Age en 2001. Il rejoint ainsi son ami Josh Homme, le leader du groupe, qui avait participé à une tournée des Screaming Trees en 1996 en tant que guitariste rythmique. Il coécrira et posera sa voix sur plusieurs chansons de Rated R (2000) Songs for the Deaf (2002) et Lullabies to Paralyze (2005). Son départ du groupe en 2005, au même moment que Nick Oliveri, intervient dans des conditions obscures. S'il ne tourne plus avec le groupe pendant la tournée suivante Lullabies to Paralyze, il est pourtant crédité sur l'album Era Vulgaris, publié le  ; il y interprète les chœurs sur le refrain de River in the Road. Il contribue à l'album …Like Clockwork en 2013 en tant que choriste sur If I had a Tail et Fairweather Friends et contribue également à l'écriture de cette dernière.
Ce duo fut formé en 2003 par Mark Lanegan et Greg Dulli des Afghan Whigs et Twilight Singers. Leur 1er album intitulé Saturnalia est sorti le  sous le label Sub Pop. On y entend notamment les participations de Joseph Arthur, Martina Topley-Bird ainsi que de Troy Van Leeuwen. Un EP nommé Adorata est sorti en , uniquement téléchargeable sur Itunes. Il est composé de sept reprises et de 2 inédits. Plusieurs titres sont disponibles sur leur MySpace
(en) Site officiel [archive]
Ressources relatives à la musique : 
Ressource relative à l'audiovisuel : 
(en) Alex Young, 

« R.I.P. Mark Lanegan, Rock Pioneer and Screaming Trees Frontman Dead at 57 »

, 

consequence.net

,‎  (lire en ligne [archive])