Costa Rica Blues Festival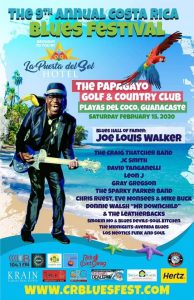 Se viene el 9no Costa Rica Blues Festivall! Vie 14, Sab 15 y Dom 16 de Febrero en Playas del Coco, Guanacaste y vamos a estar botando la casa junto a músicos increíbles, simplemente IMPERDIBLE!
Lineup:
– Joe Louis Walker (Miembro del Blues Hall of Fame)
– JC Smith Band from California
– The Chris Ruest BAND, Eve Monsees & Mike Buck from Austin
– David Tanganelli – Artist from Brazil
– Leon J from Arizona
– Craig Thatcher Band from Philadelphia
– Sparky Parker Band from Houston
– Donnie Walsh "Mr. Downchild" and the Leatherbacks from Toronto
– Gray Gregson from Austin
– Mo & Blues Devils from Costa Rica
– Los Neotics from Costa Rica
– Soul Kitchen from Costa Rica
– The Midnights from Costa Rica
– Avenida Blues from Costa Rica
Demasiado blues para la vida!