Delmark Records 70th Anniversary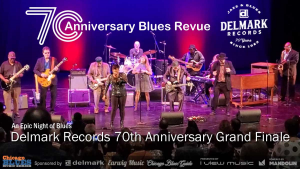 Delmark Records 70th Anniversary Blues Revue concert film
to premiere worldwide on Feb. 4
Starring Chicago's own:
Dave Specter Band w/ Bro. John & Jimmy Burns
Mike Wheeler Band w/ Demetria Taylor
Dave Weld & The Imperial Flames w/ Pierre Lacocque from Mississippi Heat
Check out the exciting trailer for a sneak preview:
This once-in-a-lifetime concert documentary will stream on the Mandolin platform on Feb. 4 and can be replayed for 48 hours afterwards.
You can purchase a ticket for $20.