Dickie Harrell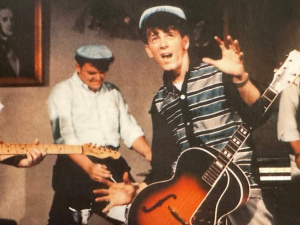 Dickie Harrell (August 27, 1940 – May 31, 2023) was an American drummer.
Life
He was best known as the drummer for the rock and roll group The Blue Caps, the backing band for Gene Vincent. He was the youngest member. Harrell was inducted as a member of the Blue Caps by Smokey Robinson into the Rock and Roll Hall of Fame in 2012.[1] Outside of the Blue Caps, he worked as a session drummer, primarily in the 1960s.[2] Prior to retiring in 2021, Harrell spent 37 years working for the government in the hazardous materials field.[3]
Death
Harrell died in Greenville, South Carolina in May 31, 2023, at the age of 82.[4][5]
References