DUSTY HILL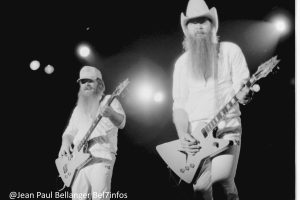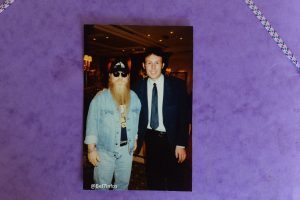 Joseph Michael "Dusty" Hill (May 19, 1949 – July 27, 2021) was an American musician, singer, and songwriter, best known as the bassist and secondary lead vocalist of the American rock group ZZ Top.[1] With the band, Hill played bass guitar, sung backing and lead vocals, and keyboards. Hill was inducted into the Rock and Roll Hall of Fame as a member of ZZ Top in 2004.
Early life
[
edit
]
Hill was born in Dallas, Texas. He and his brother Rocky Hill (also a musician) were raised in the Lakewood neighborhood of East Dallas. He attended Woodrow Wilson High School (Dallas) where he played the cello.
Hill, his brother the guitarist Rocky Hill and future fellow ZZ Top member Frank Beard played in local Dallas bands the Warlocks, the Cellar Dwellers, and American Blues. From 1966 to 1968, American Blues played the Dallas-Fort Worth–Houston circuit. In 1969, Hill was a member of a fake version of the British band The Zombies with Beard.[2]
In 1968, the band decided to leave the Dallas–Fort Worth area and relocate to Houston. At this time, however, Rocky Hill wanted to focus on "straight blues", while Dusty wanted the band to rock more. Rocky left the band and Dusty and Beard moved to Houston, joining guitarist/vocalist Billy Gibbons of Houston psychedelic-rockers Moving Sidewalks in the recently formed ZZ Top just after they released their first single in 1969.
Hill's on-screen appearances include Back to the Future Part III, Mother Goose Rock 'n' Rhyme, WWE Raw and Deadwood, and as himself in the 11th-season episode of King of the Hill, "Hank Gets Dusted", in which Hank Hill is said to be Dusty's cousin. He also made an appearance on The Drew Carey Show as himself auditioning for a spot in Drew's band, but is rejected because of his attachment to his trademark beard which he refers to as a 'Texas Goatee'.
In 2000 he was diagnosed with Hepatitis C,[3] and as a result, ZZ Top canceled their European tour.[4] Hill resumed work in 2002.[3]
Hill passed away in his sleep on July 27, 2021. His death was announced by his ZZ Top bandmates Billy Gibbons and Frank Beard.[5]
Musical equipment
[
edit
]
Discography
[
edit
]
American Blues albums
[
edit
]
References
[
edit
]