NITA STRAUSS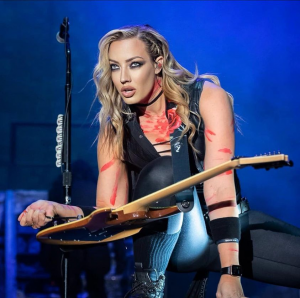 2022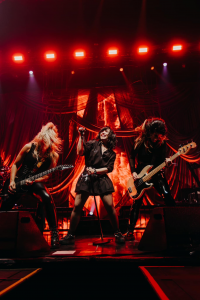 Demi took a risk making a heavier album like this one, stepping outside of the safe zone and doing what she wanted to as an artist, and it showed in every performance. The reaction was incredible to see. A world where an artist changes styles and has the complete support of their fans… let's just say that is rare in this day and age
and it was beautiful to see!!
I am so grateful for the opportunity to bring this show to life alongside this incredible band and crew every day. Everyone delivered under any and all circumstances and we proved a lot with this tour!! It has truly been the adventure I needed
Demi, Leanne Bowes (bass) Dani McGinley (keys) and Britt Bowman (drums) it was a privilege to share the stage with you girls!
Let's do it again in a couple weeks at Jingle Ball!!
But first
I'll be back in the Rams House on Sunday for a very special Salute to Service game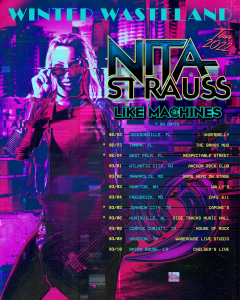 2021
TWO WEEKS from today!!!! The Winter Wasteland tour kicks off Nov 10 in beautiful New Orleans, LA!!!

I cannot believe it's coming up this fast
where will we be seeing you??!
Louisiana, Texas, AZ, you're up first!!
11/10 New Orleans, LA @ The Hangar
11/11 Houston, TX @ Scout Bar
11/12 Dallas, TX @ Amplified Live
11/13 San Antonio, TX @ The Rock Box
11/15 El Paso, TX @ RockHouse Bar & Grill
11/16 Tuscon, AZ @ Encore
11/17 Phoenix, AZ @ Rebel Lounge
11/18 Los Angeles, CA @ Whisky A Go Go
11/19 Reno, NV @ Peavine Taphouse
11/21 Sacramento, CA @ Harlows
11/22 San Jose, CA @ The Ritz
11/24 San Diego, CA @ Brick By Brick
11/27 Denver, CO @ HQ
11/28 Kansas City, MO @ Uptown Theater
11/30 Destin, FL @ Club LA
12/01 Orlando, FL @ The Haven
12/02 Atlanta, GA @ Masquerade
12/03 Spartanburg, SC @ Ground Zero
12/04 Greensboro, NC @ The Blind Tiger
12/07 New York, NY @ Market Hotel
12/08 Baltimore, MD @ Ottobar
12/09 Pittsburgh, PA @ Jergels
12/10 Harrison, OH @ Blue Note
12/11 Flint, MI @ Machine Shop
12/12 Toronto, ON @ Horseshoe Tavern
12/14 Cleveland, OH @ The Odeon
12/15 Chicago, IL @ Reggie's Rock Club
12/16 Minneapolis, MN @ Skyway Theater
12/17 Milwaukee, WI @ The Back Room @ Colectivo
12/18 Angola, IN @ The Eclectic Room
Tix and VIP Meet and Greet for ALL shows available now! I'll link in the comments


@clashdan