RAY GOMEZ
notre dernière rencontre j'ai retrouvé ça hier
2020
Here We Are © Ray Gomez 1975 Astroport featuring: Ray Gomez (guitar), Carmine Appice (drums), Jeff Berlin (bass), Steve Hill (keyboards) Written by Ray Gomez and Brian Chatton

2019
And week Eighteen at Number One in JazzRock and InstrumentalRock is ending..also number Four in Jazz
Could be the last,so I enjoy it
Thank you and have a great weekend!
Click to listen at CDBaby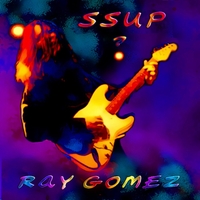 Ssup?
© Copyright – Ray Gomez / Ray Gomez (193428480117)
Named by his peers as a guitarist's guitarist for his superlative feel, creativity, tone and technique, all with his own brand of fire, Ray Gomez is regarded as one of the all-time greats of rock-blues-jazz-fusion.
2015