TRIBUTE TO LARRY CORYELL
Kindly add "By Kaylene Peoples and AGENDA MAGAZINE) and a link to the "Original Source: http://www.agendamag.com/larry-coryell-tribute-blue-whale-stroll-memory-lane/)
Larry Coryell Tribute at the Blue Whale: A Stroll Down Memory Lane
Celebrating the life and music of Larry Coryell
Saturday, April 15th, 2017
Tribute to Larry Coryell
– 

7:00pm

1348 Route 9W

Marlboro New York 845-236-7970
A Tribute to Larry Coryell w/Special Guests
Murali Coryell – guitar/vocals
Bill Evans-saxophone
Vic Juris – guitar
Brian Keane-guitar
Mike Mandel-Keyboards
Mark Sherman – vibes/piano
Dan Pickering -flute/trumpet
Mark Egan – bass
Bill Foster-bass
Bernard Purdie – drums
Mike Clark – drums
Steve Johns – drums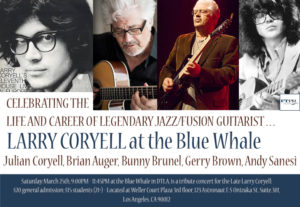 The Blue Whale in Downtown L.A. is known for organic music, featuring a variety of styles such as fusion, contemporary jazz, new age, and those that thrive in a cozy, ambient atmosphere. Saturday, March 25, 2017, from 9:00 PM to 11:45 PM was filled with the essence of Larry Coryell, and I had never seen this intimate venue so packed. The tribute concert was spearheaded by Larry's surviving son Julian, who proved to his father's fans, the apple does not fall far from the tree. Following the memorial of Larry Coryell (which occurred earlier that day) the concert was to be a celebration of the man and his music. The original lineup was to include Julian Coryell on guitars, Bunny Brunel on bass, Brian Auger on Piano and B3 organ (Auger took ill that night and was subbed by keyboardist/organist Matt Rohde); and drummers Gerry Brown the first set, and Andy Sanesi the second set.
The song list was filled with some of Larry Coryell's greatest compositions. Julian played flawlessly those songs, which included the following: "Spaces Revisited," "Sink or Swim," "Treats Style," "First Things First," "Low Lee Tah, "After Later," "Bird Fingers," and "Good Citizen Swallow." As spirited as those performances were, the show was further commemorative of the fusion style with two tunes by the late, great fusion/soul drummer Alphonse Mouzon, who passed away earlier this year. The ensemble performed Mouzon's "The Cover Girl " and "Poobli"; and early in the second set, Julian Coryell and Bunny Brunel did a duet by René Thomas called "Renée's Theme."  This was a famous duet originally performed by Larry Coryell and John McLaughlin from the album Spaces.
"It really sounded like Larry was here tonight, because Julian plays exactly like his father." – Bunny Brunel.
A big highlight of the evening came at the opening of the second set. Julian set the stage, spotlit and seated, as he played a lone acoustic guitar. His brilliant version of "Ravel's Bolero" was hauntingly beautiful in its execution and eerily reminiscent of his father's style; and Julian's personal touch that evening helped to pass on the proverbial torch. So what's next concerning his father's legacy?
"The question that is in front of me is . . . 'Is this a one time thing or do we keep it going?' We're going to come back here in June with the new ELEVENTH HOUSE. It's very intense for me. We made a new ELEVENTH HOUSE record a year ago. And I had no way of knowing that it would be the last record that we would make together. But that record is going to come out June 2nd I believe. And it will feature new compositions by my father, by Alphonse Mouzon, by the great John Lee, and of course Randy Brecker. So it's a very strange position, but we are going to do this!" – Julian Coryell Moments Before the Final Song of the Concert.
The evening was filled with incredible musicianship and the mutual affection everybody had for Larry Coryell and his music. I look forward to June 2, 2017, and the release of this father and son's final recorded album together. Maybe I'll see you there. I guess one of the audience member's was right that evening when he shouted before the tribute concert began, "Long live Larry Coryell!"
(All Images Photographed by David Schwartz)