WAYNE BAKER BROOKS
#BUDDYSHOWS JAN 14TH 2017 IS SOLD OUT!!! Told yall to get those tix fast, now you gotta try to look through the doggone window!! But all jokes aside wouldnt this be great 35 day tour across the USA?
Hello Music Lovers,
Just a little poke or nudge to remind you I will be on ABC TV Chicago Channel 7 for the New Years EVE Countdown Chicago TONIGHT at 11:08pm right after Times Square Ball Drop with Ryan Seacrest. Set your DVR's, VCR's, and any recording devices you have right now if you will be out partying. Also there may be live coverage on the internet @ http://abclocal.go.com/wls/live
There's a big Snowstorm coming so you might just end up staying home anyway!!!!! 😉
Happy New Years 2014,
Go here for more details…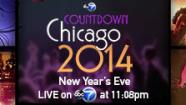 http://abclocal.go.com/wls/story?id=93350454
(Countdown Chicago 2014)
ABC 7's 23-year tradition continues with a new twist this year as Windy City LIVE joins the party! COUNTDOWN CHICAGO 2014 is the ultimate front row seat to the hottest parties, music, comedy and spectacular fireworks in and around Chicago. ABC 7's COUNTDOWN CHICAGO 2014 is a TV tradition and an annual favorite among viewers, consistently ranking as Chicago's #1 program in the time period.
ABC 7's Ryan Chiaverini, Janet Davies, Mark Giangreco, Hosea Sanders, Val Warner, and Ji Suk Yi will serve as the night's co-hosts.
Not to be missed are performances by Chicago Blues great Wayne Baker Brooks and American Idol's Nick Lynch; a year-end comedy review from Zanies Comedy Club's own Pat McGann; New Year's resolutions from a kid's perspective in a fun exchange with WGCI's Tony Sculfield; and Ryan Chiaverini skating on thin ice when he shows off some of his favorite hockey moves at one of the coolest rinks around.
Tune in at 11:08 pm December 31, 2013 and ring in the new year with Chicago!!!