BOB SHEPPARD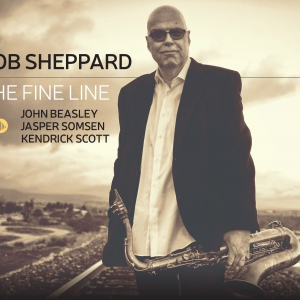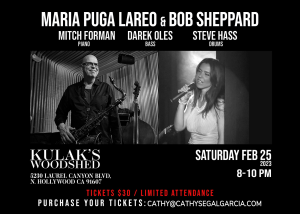 MARIA PUGA LAREO vocals
BOB SHEPPARD saxophone-woodwinds
MITCH FORMAN Piano
DAREK OLES Bass
STEVE HASS Drums
******************************************************
To Reserve/ Purchase tickets contact Cathy: cathy@cathysegalgarcia.com
Cover $30
Limited seating, first come first serve.
We look forward to seeing you!
******************************************************
Maria Puga Lareo, a celebrated Jazz and Brazilian vocalist originally from Argentina, and consummate saxophone-woodwind artist Bob Sheppard come together to perform an eclectic blend of American songbook, Brazilian and Originals.
Puga Lareo was born and raised in Buenos Aires, a city rich with culture and history, where she started her musical path singing in theaters, clubs, and Jazz festivals. She released her first solo album "Body and Soul" in 2005 and began performing frequently in the New York City jazz scene, where she recorded with legendary bassist Eddie Gomez. She recorded a duet with noted pianist Bob Telson, "Show Me Your Face," that featured trumpeter Wynton Marsalis. She has toured to different countries within Latin America, Europe, the Middle East and throughout the US.
Her husband and collaborator Bob Sheppard has been called one of the top-tier saxophonists of our time. He has worked with a long list of legendary artists including Freddie Hubbard, Chick Corea, Steely Dan, Mike Stern, John Beasley, Randy Brecker, Billy Childs, Peter Erskine