DELMARK RECORDS
Looking forward to playing the Berwyn Blues Festival September 25th at 7:30pm!!!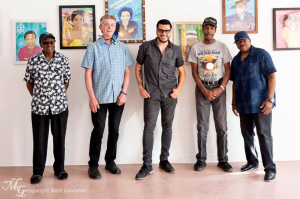 Day #1 recording my brand new album at legendary
Delmark Records
in Chicago.
I'm truly blessed to have worked with this LEGENDS today.
It was an honor to see them play on my original music and I learned so much…
These gentlemen you have to watch like a hawk and learn as much as you can from them
Today at Delmark's studio, I realized I was in the same room with the same musicians that played, recorded and toured many years with Muddy Waters, Magic Sam, Magic Slim, Otis Rush, BB King, Buddy Guy, Jimmy Rogers, Eddy Clearwater, Junior Wells, Luther Allison, Otis Clay, Willie Dixon, Koko Taylor, Lurrie Bell, Jimmy Johnson, Bryan Lee, Willie Kent, Snooky Pryor, Larry McCray, Mavis Staples, Marvin Gaye and The Temptations to mention a few…
For a moment it was hard not getting emotional in front of them . . . .
You have to understand…
When I was a kid growing up in Costa Rica many moons ago, my only teachers were the blues albums I could get my hands on and these guys were in A LOT of them so to be in the same room recording my music with them was really a dream come true.
I'm HONORED they wanted to be a part of this sessions and I will never forget this.
I'm excited about the next few days in the studio

We'll be doing some guitar work and vocals as well !
We have ONE MORE BIG SURPRISE we'd like to announce related to this record…
A very SPECIAL GUEST that will be featured in one of my songs for this album…
I cannot make this announcement yet but y'all should stay tuned

I would like to thank my good friend
Mark Goodman
for being a part of this experience and taking these amazing shots
, also I'd like to thank the president of
Suncoast Blues Society
Terri OBrien
for joining us as well.