JUDITH OWEN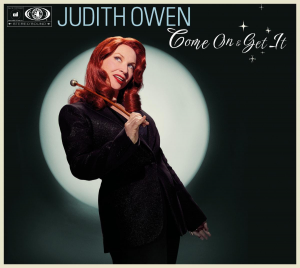 'Come On & Get It'
from
Vocal Provocateur Judith Owen
Celebrating The Music Of The "Unsung Badass" Ladies Of Jazz And Blues
Featuring a Cornucopia of New Orleans' Finest Musicians
Delicious, delightful, bodacious, brave, insightful, seductive and fun – just some of the many adjectives one might use to describe Judith Owen's fascinating and alluring new album, 'Come On & Get It,' available now via London's Twanky Records.
Featuring tracks by a legion of female jazz musicians from the '40s and '50s, including Nellie Lutcher and Julia Lee, the album showcases talents who sparked a flame in Owen as a child but who haven't received the widespread recognition they deserve. Owen explains: "Hearing these women as a kid, I thought they were fun, ballsy, sexy and powerful. They were playing the piano and kicking arse. It was all so impressive to a little girl who was mad about music and piano. It was like, Oh, this is how you can be!."
As a child, Owen assumed her idols were world-renowned before discovering that their careers hadn't been long at all when she moved to the US in the '90s. "I realized that what I was listening to were race records," she explains. "These were not songs that white people heard. This was pre-civil rights America so segregation was full on. The only place these women, and so many other great jazz artists, had an equal playing field was in places like Europe, Asia and Australia, which is why it's so important to me to honor and celebrate them."
Joyful, authentic and empowering, 'Come On & Get It,' the 13th studio album from Judith Owen, sparks a new era with a collection of deliciously catchy songs that were the soundtrack to her childhood. Hidden gems and classics by female jazz & blues artists from the '40s & '50s, including Nellie Lutcher, Blue Lu Barker, Julia Lee, Dinah Washington, Blossom Dearie, Pearl Bailey, Julie London & Peggy Lee. As Owen explains, "I thought they were mischievous, witty, smart & in control… "
Owen, who is originally from Wales, and now calls New Orleans home, recorded the project with Grammy® Award winning producer John Fischbach at Esplanade Studios in New Orleans (where else could you hear such greasy joy that speaks of Storyville and Burlesque?). 'Come On & Get It' features a stellar cast of musicians including Jason Marsalis, Donald Harrison, Charlie Gabriel, Nicholas Payton, David Torkanowsky, Kevin Louis, Evan Christopher, Ricardo Pascal.
On Lutcher's "Fine Brown Frame," Owen sings the tale of a woman lusting after a man she's seen around town. "She's literally drooling and it's a really interesting thing to hear from a woman's perspective, especially in the context of the time the song was released in the '40s," Owen notes. "Hearing a woman talk about a man in the way you're used to hearing men talking about women was pretty unheard of back then. It's what makes it so great."
On "Blossom's Blues" by Blossom Dearie, Owen changes the original lyrics from first to third person in order to honor the artist. "The humor is that she's this diminutive little blonde lady at the piano who was talking about herself like she's a race horse, a man-eater," she says of the song. "There's a great line that says, 'Ray Brown (who was her bass player) told me that I was built for speed,' which basically means she's really good in the sack. To me, that is one of the most outrageously brilliant lines I've ever heard."
Join us every Wednesday for a short interlude of music and fun from Judith Owen streaming at 7PM ET on 
JazzCorner's FB
 and Judith's YT and Facebook channels.
Lois Gilbert
Managing Director