Louise Jallu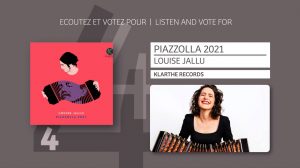 Louise Jallu, joueuse de bandonéon, donne régulièrement des stages de tango au CNIMA. Ecoutez et votez pour son dernier album!
Bandoneon player, Louise Jallu, regularly gives tango workshops at the CNIMA. Listen and vote for her last album!
Pour VOTER pour PIAZZOLLA 2021 sélectionné dans le TOP 5 des disques de JAZZ par Mezzo, c'est ici
en cliquant sur les petites étoiles en dessous du CD
MERCI pour votre soutien !
—
(ES) Para VOTAR por PIAZZOLLA 2021 seleccionado en el TOP 5 de los discos de JAZZ por Mezzo, es aquí
haciendo clic en las pequeñas estrellas debajo del CD
GRACIAS por su apoyo!
https://www.mezzo.tv/fr/top-mezzo…
—
(EN) To VOTE for PIAZZOLLA 2021 selected in the TOP 5 records of JAZZ by Mezzo, it is here
by clicking on the little stars below the CD
THANK YOU for your support!
https://www.mezzo.tv/en/top-mezzo…