Michelle Leigh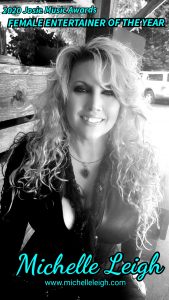 Michelle Leigh Biography
Southern Rocker Michelle Leigh is a bit of musical mosaic. Born
in a small Western North Carolina town, she grew up in what she
calls a "Norman Rockwell" setting, where doors were never
locked, neighbors were always quick to lend a hand, and no
matter how old you were, manners were always in style.
Michelle did not grow up singing in church, though she can sing
most any old-time gospel song you'd want to hear. Instead, Tina
Turner, The Sonny & Cher Show, Dolly Parton and Elvis were her
early inspirations. From an early age, Michelle knew she wanted
to sing, to write songs, to be on stage.
Michelle's first endeavor into the entertainment world was in her
high school and college tour choirs, as well as local beauty
pageants.
After college, Michelle performed across the Western North
Carolina area with her brother Mark. While she loved the small,
intimate setting of an acoustic duo, it wasn't enough. She wanted
more, and MORE she got!
Country Music seemed to be the obvious choice, so she threw all
her efforts into performing Country, writing Country songs, and
courting Music City. Michelle has worked with some of the finest
in the Country Music business- Jamie O'Neal, Kent Wells (Dolly
Parton), Jimmy Mattingly (Reba McEntire), Billy Nobel (Tim
McGraw), Charlie Kelley, David Fowler and many more. She has
shared the playbill with Country Greats such as Confederate
Railroad & The Kentucky Headhunters, & the McCarter Sisters.
However, just as the acoustic gig didn't quite fit, neither did
Country & Music City. In her heart, she loves old Country and
holds a reverance for unmatched for The Grand Ole Opry. Her
greatest musical heros are Patsy Cline, Tammy Wynette, Merle
Haggard and the list goes on…. But Michelle just didn't fit that
mold. Her vocals were smoky, rough in a way. She'd been
described as having "Tube Amp" vocals. (Guitar players, you
understand!) She always prefers "men" rough and tumble songs
and that driving beat over the smooth, sometimes sad, longing
songs from the ladies.
So what do you do with a girl who thinks like a guy, has the
delivery of a Mack Truck, and the fearlessness to write honestly
without sugarcoating? Put her in Southern Rock, that's what!
There could not be a more perfect fit for the Country Misfit than
being Southern Rock's darlin'! Michelle is carving a deep path
and making indelible marks in the Southern Rock world. She has
taken home several Southern Rock awards in the past 4 years,
and has centralized her operations in the Southern Rock capital of
the World, Jacksonville, Florida.
Michelle Leigh's Awards are as follows:
2013 Charlotte Women in Rock Winner
2015 Josie Awards Southern Rock Artist of the Year
2016 Josie Awards Southern Rock Song of the Year-Somebody's
Someone
2017 Josie Awards Nominee Artist of the Year, Song of the Year-
Devil Music, Video of the Year-Devil Music and Entertainer of the
Year
2018 Josie Awards Video of the Year-Blood Water
2018 Josie Awards Southern Rock Entertainer of the Year
2019 Josie Awards Video of the Year- "Lightning in a Bottle"
2019 Josie Music Awards Southern Rock Entertainer of the Year
2020 Josie Music Awards Song of the Year "The Legend"
2020 Josie Music Awards Female Entertainer of the Year
You can keep up with Michelle Leigh Michelle Leigh