Michelle Leigh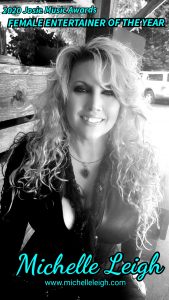 2022
Y'all, I sure wasn't expecting this! 2022
The Josie Music Awards
Southern Rock/Country Rock Artist of the Year! And I got to walk the hallowed boards on the stage of the
Grand Ole Opry
!
That, alone, was more than I could have even imagined ever doing. I am so very grateful for my awards- Best Performance in a Music Video (female) for "Jesus Thinks I'm Beautiful" & Southern Rock/Country Rock Artist of the Year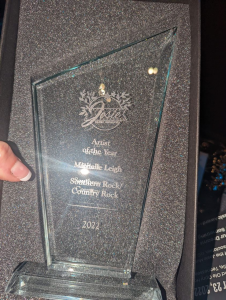 YAY!! My awesome sweetie got our tix today for the the Josie Music Awards- Grand Ole Opry !! It's unreal to think I'm even going to be inside that building
Josie Passantino-Boone Tinamarie Passantino we Indies can never thank you for all you guys do. Y'all blow my mind.
2021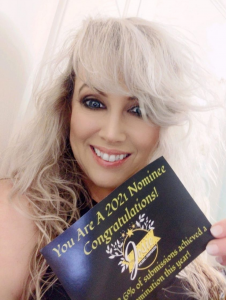 MICHELLE LEIGH

Sigh!!! What an INCREDIBLE weekend!!
2021 JMA Album of the Year
"ENIGMA"
2021 JMA Multi-Genre
Entertainer of the Year
I went into this year's awards thinking I didn't have a snowball's chance in Hades of getting an award this go-around. I think we have all felt a little scattered, disorganized and behind the 8-ball for the last couple of years due to scheduling, cancellations etc…
I just honestly felt like this was my year to sit back and watch. I had so many good friends up for awards this year, so it was gonna be GREAT, no matter what!
All of my friends who performed absolutely knocked it out of the park, and then some. Some of my Florida fam and Madison County fam (the sweetest people in the whole world!) Won in their respective categories. So proud of them all! One of my very best friends in the whole entire universe and her man literally left their gig in Florida at 3:00 a.m. and drove all night to come be with me at the awards! BEST SURPRISE EVER,
Autumn Martin Davis
&
Donnie Gramling
It was already the grandest day!!
For those of you who follow me, you know I was nominated for 14 different awards this year, which was huge… Absolutely huge! What an incredible honor!! But, as the day progressed, categories came and went. I figured I had blew it this year, But it was okay because my friends were doing well, one of my besties was there, and I was happy
.
When Album of the Year category came up, I was not even paying much attention. I was busy fiddling with my dress which did not fit at all and I probably could have gotten another person in it, had I tried lol
I almost dropped DEAD when Josie Passantino-Boone and
Tinamarie Passantino
called out "ENIGMA" as the winner!! My little vagabonds songs… They all look like a school of orphaned children from vastly different families lol, but I guess they came together beautifully. As a songwriter, that is everything to me. I don't think I've ever been as proud of an award as I am of Album of the Year
To continue on with my War and Peace post, I have been so very blessed to have carried home 3 past Entertainer of the Year awards. 3. That's a lot!! I just knew in my heart there was no way that would happen again this year. No way, no how. So, much like the first year I won EOY in 2018, I had went to the restroom and removed the miscellaneous stuffing that was holding my baggy dress in place, came back, settled down in my seat and began eating popcorn & drinking Coke like it was my last meal. Multi-Genre EOY was coming up, and I remember thinking to myself, "Ain't no way, sister. Not this year", so I got another extra big bite of popcorn
. Then they did it again lol Josie and Tina called my name out for the awesome, incredible Multi- Genre Entertainer of the Year winner. Yep, I almost dropped dead yet again
I can't even tell you all what a distinct honor it is to have won these awards this year. I truly do not think I'm very much of anything. I try. I work really hard. I'm far more concerned with paying for new recordings & videos than paying for new clothes or shoes or car repair lol
I guess I'm just too stubborn to go away, and even a blind squirrel gets a nut once in awhile.
I will never take my wins at
The Josie Music Awards
lightly or for granted. I will never, ever let any accomplishment go to my head, because I KNOW it is only by the grace of God, who gave me my writing ability, Who put such incredible people in my life to make up my team-from husband to band members to friends to producers to co-writers… It's all God who orchestrated this entire thing for me. I am, and will always be, eternally grateful that he is letting me live out my life striving to make a career in something I love deeply.
I'll be posting more pictures soon… Much love to you guys and special congratulations and thanks to the following people:
….And of course the mavens behind the magic Josie & Tina, and their awesome guys
Matt Boone
&
Vito Passantino
. Do y'all even realize how transformative you guys are in our lives?? You guys are amazing. I truly love you guys like you are my brothers and sis
I don't think it's any secret how I feel about the Josie Music Awards!
I am a proud 10-time winner At the JMA's, & a super happy 14-time nominated "hopeful" for the 2021 Josie Music Awards.
Only 2.6% of submissions achieved a nomination this year! To have 14 nominations absolutely blows my mind. The depth of my gratitude cannot be measured.
The nomination categories are as follows:
~ Album of the Year- ENIGMA
~Southern Rock Artist of the Year
~Southern Rock Vocalist of the Year
~Holiday Song of the Year
"It's Christmastime, My Baby"
~Holiday Song of the Year
~Musical Event of the Year
"Liar", feat. Lee Newton
~Musical Event of the Year
~Country Song of the Year
"Just An Old Shirt"
~Southern Rock Song of the Year "If"
~Christian Song of the Year
"Jesus Thinks I'm Beautiful"
~Stage Fashion Trailblazer
~Video of the Year-Female
"As Good As Gone"
~Video of the Year- Duo (w/Lee Newton)
"Liar"
~Multi-Genre Entertainer of the Year
Michelle Leigh Biography
Southern Rocker Michelle Leigh is a bit of musical mosaic. Born
in a small Western North Carolina town, she grew up in what she
calls a "Norman Rockwell" setting, where doors were never
locked, neighbors were always quick to lend a hand, and no
matter how old you were, manners were always in style.
Michelle did not grow up singing in church, though she can sing
most any old-time gospel song you'd want to hear. Instead, Tina
Turner, The Sonny & Cher Show, Dolly Parton and Elvis were her
early inspirations. From an early age, Michelle knew she wanted
to sing, to write songs, to be on stage.
Michelle's first endeavor into the entertainment world was in her
high school and college tour choirs, as well as local beauty
pageants.
After college, Michelle performed across the Western North
Carolina area with her brother Mark. While she loved the small,
intimate setting of an acoustic duo, it wasn't enough. She wanted
more, and MORE she got!
Country Music seemed to be the obvious choice, so she threw all
her efforts into performing Country, writing Country songs, and
courting Music City. Michelle has worked with some of the finest
in the Country Music business- Jamie O'Neal, Kent Wells (Dolly
Parton), Jimmy Mattingly (Reba McEntire), Billy Nobel (Tim
McGraw), Charlie Kelley, David Fowler and many more. She has
shared the playbill with Country Greats such as Confederate
Railroad & The Kentucky Headhunters, & the McCarter Sisters.
However, just as the acoustic gig didn't quite fit, neither did
Country & Music City. In her heart, she loves old Country and
holds a reverance for unmatched for The Grand Ole Opry. Her
greatest musical heros are Patsy Cline, Tammy Wynette, Merle
Haggard and the list goes on…. But Michelle just didn't fit that
mold. Her vocals were smoky, rough in a way. She'd been
described as having "Tube Amp" vocals. (Guitar players, you
understand!) She always prefers "men" rough and tumble songs
and that driving beat over the smooth, sometimes sad, longing
songs from the ladies.
So what do you do with a girl who thinks like a guy, has the
delivery of a Mack Truck, and the fearlessness to write honestly
without sugarcoating? Put her in Southern Rock, that's what!
There could not be a more perfect fit for the Country Misfit than
being Southern Rock's darlin'! Michelle is carving a deep path
and making indelible marks in the Southern Rock world. She has
taken home several Southern Rock awards in the past 4 years,
and has centralized her operations in the Southern Rock capital of
the World, Jacksonville, Florida.
Michelle Leigh's Awards are as follows:
2013 Charlotte Women in Rock Winner
2015 Josie Awards Southern Rock Artist of the Year
2016 Josie Awards Southern Rock Song of the Year-Somebody's
Someone
2017 Josie Awards Nominee Artist of the Year, Song of the Year-
Devil Music, Video of the Year-Devil Music and Entertainer of the
Year
2018 Josie Awards Video of the Year-Blood Water
2018 Josie Awards Southern Rock Entertainer of the Year
2019 Josie Awards Video of the Year- "Lightning in a Bottle"
2019 Josie Music Awards Southern Rock Entertainer of the Year
2020 Josie Music Awards Song of the Year "The Legend"
2020 Josie Music Awards Female Entertainer of the Year
You can keep up with Michelle Leigh Michelle Leigh