Ronnie James Dio
RONNIE JAMES DIO Documentary In The Works, New Hologram To Hit The Road In May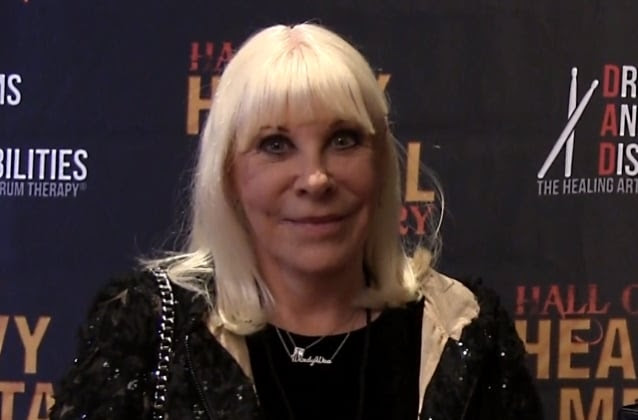 Wendy Dio, wife and longtime manager of Ronnie James Dio, has confirmed that there are also plans to produce a documentary that will cover Dio's career from his early days with ELF to his final project, HEAVEN & HELL. She told The Metal Voice at this past Wednesday's (January 23) Hall Of Heavy Metal History event at Marriott Delta Garden Grove in Anaheim, California (see video below): "The documentary will go back to his childhood. I have many photos. We have a lot of old videos. There'll be things that people have never seen."
Wendy added that she is current "interviewing people" about producing the documentary, which will be distributed via BMG.
Best known for his work with BLACK SABBATH, RAINBOW and DIO, Ronnie James Dio passed away of stomach cancer on May 16, 2010 at the age of 67. A few months after his death, MTV Books announced plans to release his memoir, which at the time was going to be called "Rainbow In The Dark: The Autobiography Of Ronnie James Dio".
Asked about the status of the book, which was three-quarters written before the singer's death, Wendy told The Metal Voice: "I'm collaborating with Mick Wall. He's done a lot of different books. He knew Ronnie very well. [He's British]. I've had meetings with him, and we're definitely doing it this year."
Wendy also talked about the touring plans for the Ronnie James Dio hologram, which was created by a company called Eyeillusion and made its debut at the Wacken Open Air festival in August 2016 in front of more than 75,000 fans.
"We have a new [Ronnie hologram] we're developing that's gonna be fantastic," she said. "I'm actually seeing the finish of it on the 4th of February, and we are hoping to tour with this probably from May onwards."
The Dio hologram production uses audio of Ronnie's live performances from throughout his career, with the DIO DISCIPLES band playing live, consisting of Simon Wright on drums, Craig Goldy on guitar, and Scott Warren on keyboards, along with Bjorn Englen on bass. Also appearing with them are former JUDAS PRIEST singer Tim "Ripper" Owens and ex-LYNCH MOB frontman Oni Logan.
After the tour's initial seven-date run was completed in December 2017, Ronnie's hologram is undergoing "some changes" before the launch of the next leg of the "Dio Returns" world tour.
Wendy, who is a member of the Eyellusion team, previously said that the people that criticize the Ronnie James Dio hologram should at least see it in person before voicing their disapproval. "Don't criticize it if you haven't seen it," she told "Whiplash", the KLOS radio show hosted by Full Metal Jackie. "It's done with love. The band love doing it. And we just wanna keep Ronnie's memory and his music alive."