Stefanie Nikolova – Lady Galaxy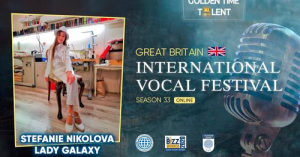 I like to sing, voice act, dance, and draw.
I was born in Sofia, Bulgaria and I want to participate in your competition, casting, or in producing music and movies that you are organizing.
I have been training in ballet since I was 3 years old. I have been singing since late 2018.
and I already have several original songs that can be listened to on Spotify and Apple Music:
I work with many programs in the class of Adobe Premiere Pro, Adobe Audition., Crescendo, FLStudio, Kinemaster
I compose my own chords on my digital piano.
I have over 420 videos with covers and original songs on my YouTube channel.
All the winners in the previous seasons took part in the race. Between thousands of participants and 26 seasons of uncompromising competition!
Stephanie – Lady Galaxy, receives a radio rotation in the city of Chicago. She also received an invitation to participate in the concert in London City Center
*  *  *
Lady Galaxy Author's songs:
2. "Love For A Playboy – the desert of desires" – Author's song
3. Will to Love – Lady Galaxy – GRAND PRIX on GRAND FINAL – 96.67 – Golden Time Talent
My Contest Awards – 2020:
*  *  *
Instrumentals composed by Lady Galaxy
Voice Acting:
Lady Galaxy – Covers:
Regards,
Lady Galaxy – Stefanie Nikolova
My Fans: Army911.com
Only my author's songs:
Complete presentation: