TERRI LYNE CARRINGTON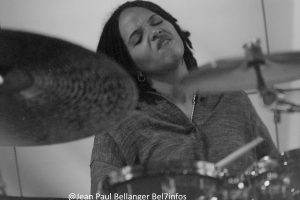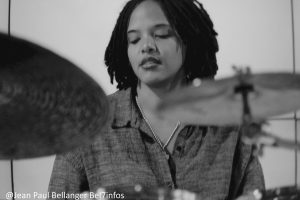 2023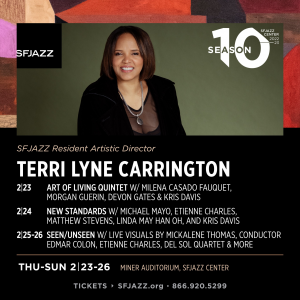 *
Stoked about my RAD week at SFJAZZ! It's always a pleasure to perform for the people of San Francisco and work with the
SFJAZZ
staff and community!
FEB 23: Art of Living Quartet — project debut!
FEB 25-26: 'Seen/Unseen' w/ Live Visuals by Mickalene Thomas, Etienne Charles, Del Sol Quartet & more
GRAMMY AWARDS
Congratulations to
& Leo Genovese who won Best Improvised Jazz Solo for "Endangered Species," from the
– produced Live At The Detroit Jazz Festival, by the quartet of Shorter, Carrington, Genovese and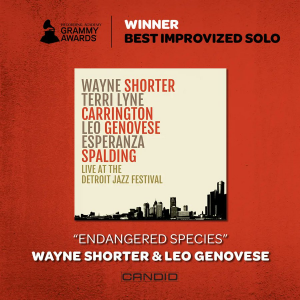 2022
FOR YOUR GRAMMY® CONSIDERATION
TERRI LYNE CARRINGTON
NEA Jazz Master, 3-time Grammy Award winning virtuoso jazz drummer, composer, interdisciplinary artist, activist and educator
'new STANDARDS VOL. 1'
'New STANDARDS Vol. 1' on 
Candid Records
, features recordings of 11 selections from Terri Lyne Carrington's New Standards: 101 Lead Sheets By Women Composers. with Carrington on drums, and a core band of Kris Davis (piano), Linda May Han Oh (bass), Nicholas Payton (trumpet), and Matthew Stevens (guitar and co-producer). with special guests Ambrose Akinmusire, Melanie Charles, Ravi Coltrane, Val Jeanty, Samara Joy, Julian Lage, Michael Mayo, Elena Pinderhughes, Dianne Reeves, Negah Santos and Somi.
Eligible Categories:
Best Jazz Instrumental Album
Best Instrumental Jazz Solo "Rounds (Live)" – Ambrose Akinmusire
Best Instrumental Jazz Solo "Circling" – Nicholas Payton
Best Arrangement, Instrumental and Vocals "Circling" – Terri Lyne Carrington & Matthew Stevens
Best Instrumental Composition "Ima" – Anat Cohen
Best Engineered Album, Non Classical
Producer Of the Year, Non Classical – Terri Lyne Carrington & Matthew Stevens
"Carrington is an extraordinary musician — full stop. Both her records and live performances speak volumes about how she brings people from divergent backgrounds together, engenders rapport between them, and encourages them to forge forward on their own terms. "No matter which setting or ensemble she appears in, Carrington conjures an ineffable center of gravity. When she's behind the kit, the music takes on new architecture, fresh integrity and a unique sense of purpose and destination…" 
Grammy.com
"It was hard to find sheet music by women jazz artists. So Terri Lyne Carrington fixed it." 
New York Times
"Though women have always played a leading role as jazz performers, they have seldom gotten the credit they deserve as writers… Terri Lyne Carrington attempts to right that wrong." 
Billboard
Midnight in Carlotta's Hair" is one of
Wayne Shorter
's great compositions. But they are all great. He is prolific beyond compare!