Norbert Nono Krief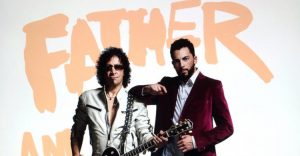 Streaming + Download

Includes unlimited streaming via the free Bandcamp app, plus high-quality download in MP3, FLAC and more.

Hello à vous !
Voici donc ce projet père et fils, David Sparte et moi-même :
Father and Son !
D'avance merci !!!
about
~ REPRODUCTION ET DIFFUSION INTERDITE SANS AUTORISATION ~
NORBERT NONO KRIEF
« Father and Son »
Octobre 2019
Album produced, arranged, mixed by David Sparte Krief !
Recorded @ home & Studio Marcadet
By David Sparte Krief & Bryan Pachaud
Guitars : Norbert Nono Krief
Vocals & Backing Vocals : David Sparte Krief
Bass : Sylvain Leon Combettes
Drum : Christian Dupuy
Jean Claude Krief (Vocal on Dead Man Talking)
Antonella Mazza (Bass on Pretty Young Thing)
Brice Delage (Guitar left on Pretty Young Thing)
Eddy Pero (Piano on Average Man)
Marie Massiot (Backing Vocal)
Didier Marty, Christophe Ducray, Didier Quéron (Cuivres on "My City don't need no Hero")
credits
released October 8, 2019
Remerciements :
Chris Carolina : crédit photo pochette
Gil da Silva : Graphisme pochette
Stevie M. Himburg
Peter Nathanson
Studio La Kapsule : Priska, Fred & Xavier Aubert
Studio Marcadet : Georges Blumenfeld & Bryan Pachaud
Mat Ninat
Bertrand Martory, Loic Danielou, Jean-Christophe Leroux, Sophie Canitrot.
Pat Llaberia
Romain Bachelard
Isabelle Morin
Manu Guerrero
Yann Noël
Jérôme Frulin
Fathi
Earbay Monitors : Alain De Campos
Oticon : Jens Kofoed
Audilab : Florence Penkala
Loïc Le Pape Guitares
Gibson France : Marc Graffeuille
Aura Guitares : Aurélien Turbant (Klink Clock)
Jegou Amps : Christophe Jegou
Val Martins Amps
Dominger Pickups : Joce Dominger
SP Custom Pickups : Jeremy Begoin
Eventide France : Jean de Reydellet
Freebox Audio Pro : Jean Marc Barsamian
Francis Allard : Ampsguitar Shop
Sabelya pédales : Élias Sabelya
Skull Strings : Carlos et Maria Pavicich
Savarez Strings : Philippe Guyon & Staff
Planet Live : Dominique Harel & Staff
Carlos Pavicci : Tolito Music & Skull String
Filling Distribution : Carine Chacun & Bruno Labati
Two Notes Audio : Guillaume Pille
Studios Mains d'Œuvres : Norbert & Staff
Guitar Garage : Yohann Hervé, Maxime, Julien, Benjamin, Gauvain, Alexandre.
Algam : Gérard Garnier & tout le staff
Magasin La Pedale : Chantal Festinoni & tout le staff
Magasin Home Studio : François Cosani
Marshall amps
Fender & Gretsch amps & guitars
Harley Davidson : Stephane Sahakian
Bernhard Stephan : Steavens custom amplification
Eliane Battistutta, la famille Krief, Emilia Velasquez Krief, Leon Combs, Eddy Pero, Mat Ninat, Akram Farra & Nathalie Hansez, Solange & Dominique Ferri, Mitch Dutheil & Véro, Jean Veidly & Fabienne Kreigel, Liliane Jacob, Yann Breban, Cathy Cheroutre.
Tracks List :
1 – Father and Son
Musique : Norbert Nono Krief, David Sparte Krief / Paroles : David Sparte Krief, Stevie M. Himburg
2 – Enemy Brothers
Musique : Norbert Nono Krief, David Sparte Krief / Paroles : David Sparte Krief, Jeremy Aprelon, Peter Nathanson, Alix Vergerolle
3 – Unconditional Drug
Musique : Norbert Nono Krief, David Sparte Krief / Paroles : David Sparte Krief, Peter Nathanson
4 – Hit Me
Musique : Norbert Nono Krief, David Sparte Krief / Paroles : David Sparte Krief, Jeremy Aprelon, Peter Nathanson, Alix Vergerolle
5 – My Flaming Guitar
Musique : Norbert Nono Krief, David Sparte Krief / Paroles : David Sparte Krief, Peter Nathanson
6 – Average Man
Musique : Norbert Nono Krief, David Sparte Krief / Paroles : David Sparte Krief, Stevie M. Himburg, Jeremy Aprelon
7 – Crook Land
Musique : Norbert Nono Krief, David Sparte Krief / Paroles : David Sparte Krief, Jeremy Aprelon, Peter Nathanson
8 – Hundred Ways
Musique : Norbert Nono Krief, David Sparte Krief / Paroles : David Sparte Krief, Peter Nathanson
9 – Messed Up Stories
Musique : Norbert Nono Krief, David Sparte Krief / Paroles : David Sparte Krief, Peter Nathanson
10 – The Power Of Shotgun Blessed
Musique : Norbert Nono Krief, David Sparte Krief / Paroles : David Sparte Krief, Stevie M. Himburg, Jeremy Aprelon, Alix Vergerolle
11 – Nobody
Musique : Norbert Nono Krief, David Sparte Krief / Paroles : David Sparte Krief, Peter Nathanson
12 – Dead Man Talking
Musique : Norbert Nono Krief, David Sparte Krief / Paroles : Jean Claude Krief
13 – Pretty Young Thing
Musique : Norbert Nono Krief, David Sparte Krief / Paroles : David Sparte Krief, Peter Nathanson
14 – My City Don't Need No Hero
Musique : Norbert Nono Krief, David Sparte Krief / Paroles : David Sparte Krief, Peter Nathanson
15 – The Stench Of City
Musique : Norbert Nono Krief, David Sparte Krief / Paroles : David Sparte Krief, Peter Nathanson
16 – So Different
Musique : Norbert Nono Krief, David Sparte Krief / Paroles : David Sparte Krief, Peter Nathanson
Tous droits réservés Norbert Nono Krief 2019
All rights reserved Norbert Nono Krief 2019