Mr WOOD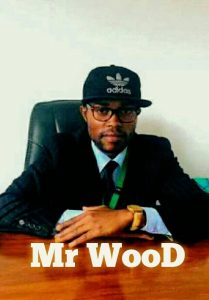 BIOGRAPHY


Servant of the Lord who carries in him the divine
nature and the fire of the Holy Spirit, it is in his early
childhood that he begins singing in choirs, under the
impetus of his uncles, impressed by his vocal qualities.
After more than 25 years of choral singing and Gospel,
he decides to embark on a solo career. He gives us his
Gospel/Jazz and Blues repertoire in which his voice rises
to classics as well as to his majestic compositions inspired
by th Divine. He makes his own arrangements when he
is not doing his own backing vocals.
Mr WOOD: The Turning Point
To combine his two loves, his two passions: Gospel and Jazz, he
decides to promote Gospel Jazz, this style of Gospel music not
widespread enough in the world, non-existent in cameroon and
little in sight in African. The first reason for this editorial line is that
Mr Wood chose very early to print a style that allows him to stand
out from crowd and stand out from othe African gospel Artists.
With this style he inteds to tour the whole world with his music
in order to announce the good news of the Gospel of Christ and
bles more people with his compositions inspired by God; thereby
bringing more souls back to christ for their eternal salvation. Mr
Wood by his ambitious project, is therefore positioned on the
African scene as the precursor, pioneer, promoter of Gospel Jazz.
This artist eserves to be followed very closely and encouraged in
this heavy mission. He joins the world Jazzmen community for
the popularization of jazz in Gospel: Gospel Jazz.
Mr Wood began his career under the name Jamesy Dubois
Demartignon, before adopting Jamesy Dubois, then finally
choosing the name Mr Wood. This short name, easy to remember,
emphasizes the charismatic side of the artist. This name also
evokes God's nature, because wood is a major element of creation,
the nature that god created for men, is also fundamental in aily
life for men to produce fire…
Hedraws most of his vocal technique from the great
celebrities of world jazz such as: NAT KING COLE, AL
JARREAU, GEORGES BENSON, BOBBY MC FERRING to which
he brings his personal touch: songs of birds, sounds of the forest,
percussion and wind instruments such as saxophone; all this
constitues his field of inspiration for vocal technique which relies
on the emotions he wants to share with his audience.
The Practitioner Singer
Mr Wood enjoys performing live in order to share his
fervor in Christ and love for Gospel. This register
is still under-represented on the cameroonian scene. He
aspires to an international career, to eliver his message.
I
n order not to stay on such a good path, mr Wood
multiplies his talents by providing his services as a vocal
coach and self-taught singing teacher. He created his
method Le Chanteur Praticien. This is how he made a name
for himself on the Cameroonian music scene by training
with this method many professional artists, gospel groups,
choristers, amateur singers, professional comedians, even
marketers and politicians as well as all those who ask for
his skills. This passionate teacher knows hw to transmit his
singing practice and the perfect mastery of voice placement
to make it a real musical instrument.
DISCOGRAPHY
1. METYIN AWOM- Mr Wood (gospel jazz single) 2020
2. VO'OLAN TYIN- Mr Wood (gospel jazz single) 2020
3. MON ÉPOUX- Mr Wood feat Ursule Helina (gospel single)
2018
4. JINGLE BELLS- Mr Wood (cover chant de Noel 1) 2018
5. SILENT NIGHT- Mr Wood (cover chant de Noel 2) 2018
OE Concepts comme manager de l'artiste
CONTACTS MR WOOD
International: +33625530628
Cameroon: +237 675 73 09 97
E-mail: jamesydubois@gmail.com
Website: www.mrwood.com (Under construction