The Headhunters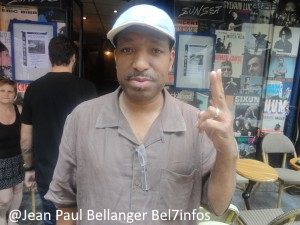 The Headhunters

 via gmail.mcsv.net 
The Headhunters April News
Hello Folks!
It's Mike Clark and Bill Summers here. We want to wish you peace and tranquility during these Covid-19 quarantine times. We have been adopting measures to stay safe and healthy while continuing to work on our music, and want to share our ongoing projects with you.
Keep up with us on social media for the latest updates!
Update from Bill Summers – SAFE CONCERT Series
This is a project that I wanted to use to raise funds for musicians who are now without work. Recorded from all of our home studios without physically interacting during any point in the process, these concerts allow us to come together during quarantine times. I thought about this carefully and decided to give this away. This is not the time to charge for anything, though your donations are greatly appreciated.
I am sure it will bring you a bit of hope in these trying times.

Bill Summers & Team
WATCH BILL SUMMERS – SAFE CONCERT
I continue to be an active musician recording and working from home. I currently teach drum lessons online through Zoom/Skype and I have a brand new drumming book ¨The Post-Bop Drum Book¨ available for purchase through Hudson Music. Thank you for checking it out and please stay safe everyone.
-Mike Clark
FOLLOW OUR LABEL BUBBLE BATH RECORDS ON SOCIALS
Please follow our record label Bubble Bath Records on all social media! It´s a great way to stay updated on what we're doing and also you might enjoy their other artists. They are a very artist-centric business looking out for the creators of the music. By helping them you help the creative community they represent.
FOLLOW US ON OUR BRAND NEW UPDATED SOCIAL MEDIA TO STAY TUNED WITH EVERYTHING WE HAVE COMING UP!
NEW ALBUM "SPEAKERS IN THE HOUSE" ON BUBBLE BATH RECORDS
The Headhunters recorded Speakers in the House a few years ago in France and the album is finally coming out this Spring on Bubble Bath Records!
Aside from Bill Summers and Mike Clark, leaders of the project and two of the original members, the record has the collaboration of incredible artists such as Donald Harrison, Scott Roberts, Fode Sissoko, Reggie Washington, Jerry Z and Stephen Gordon.
The outstanding art is by Ashlin Parker and the album design by Patricia Moscardó.
Be ready for Speakers in the House coming to you this 2020!
THE HEADHUNTERS SIGNED WITH BUBBLE BATH RECORDS 
The Headhunters just signed with the New Orleans based independent label Bubble Bath Records.
Bubble Bath Records gives voice to a blossoming community of creative original music growing currently in the city of New Orleans. The company takes pride in empowering their artists to have complete creative freedom, allowing fans to hear the music exactly as they intended.
"Are we moving in the right direction?! We definitely are…", Bill Summers
                    FOLLOW BUBBLE BATH ON SOCIAL MEDIA
DATES COMING UP!

April 16th French Quarter Fest, New Orleans
April 17th Orisha Comference at Xavier University, New Orleans
April 23rd Donald Harrison New Orleans Jazzfest
April 25th Ashlin Parker New Orleans Jazzfest
May 2nd Bill Summers New Orleans Jazzfest
May 3rd The Art Garage, New Orleans

And more TBD