Tribune to Ronnie James Dio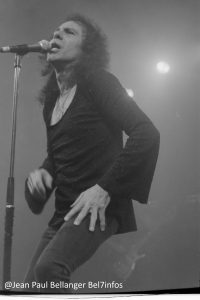 A tribute album to legendary singer Ronnie James Dio made by Swedish metal musicians has just been released.
"Legacy – A Tribute To Ronnie James Dio" features the bands MADISON, MEMORY GARDEN, TAD MOROSE, GORMATHON, TRAIL OF MURDER, FRONTBACK, SOULSHINE and SVEN-HOLGER ROSENVINGE plus guest appearances from Mats Levén (YNGWIE MALMSTEEN, CANDLEMASS), Mike Wead (KING DIAMOND, HEXENHAUS), Pontus Norgren (HAMMERFALL, THE POODLES), Jonny Lindkvist (NOCTURNAL RITES, GATHERING OF KINGS), Simon Johansson (WOLF, BIBLEBLACK), Tom Björn (NIGHTINGALE, MEMENTO MORI), Anders Modd (WOLF, BLACK INK RIVER), Hans Birger (FATAL SMILE, MINDSPLIT), Martin Knutar (DIVINE SIN, MACABRE DECAY) and Andreas "Bagge" Baglien (DIVINE SIN, WOLVERINE)
Track listing for the album is as follows:
01. FRONTBACK – Long Live Rock N Roll
02. TRAIL OF MURDER (ft. Jonny Lindkvist) – Rainbow In The Dark
03. MEMORY GARDEN – Falling Off The Edge Of The World
04. TAD MOROSE – Straight Through The Heart
05. DIO APPRECIATION SOCIETY SWEDEN – Caught In The Middle
06. MADISON – Children Of The Sea
07. GORMATHON – Jesus, Mary & The Holy Ghost
08. EPHEMERAL PLEASURE – Like The Beat Of A Heart
09. SVEN-HOLGER ROSENVINGE – I
10. SOULSHINE – Hungry For Heaven
The two special all-star projects put together for this release feature as follows.
DIO APPRECIATION SOCIETY SWEDEN is:
* Mats Levén – Vocals
* Mike Wead – Guitar
* Simon Johansson – Guitar
* Anders Modd – Bass
* Tom Björn – Drums