FOGHAT
2022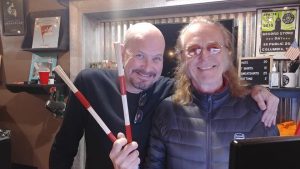 I am very happy to announce Foghat's new lead vocalist/guitarist, my good friend
Scott Holt
!! My future is looking so bright, I'll have to wear my sunglasses at night!!
Keep on Rockin'!
2021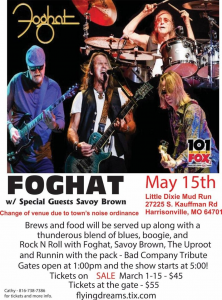 2021
Foghat Official – On Tour Now!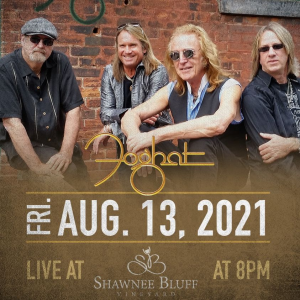 It's official, we are heading to Eldon, MO to rock the
Shawnee Bluff Vineyard
on 08/13/21!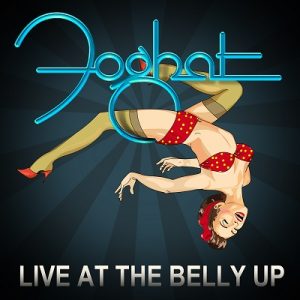 Foghat's live performances show why the band is still around today and why they will be able to keep on rockin' for as long as they want.  This band truly is timeless. Constant touring is part of their DNA and the band just loves to play.  Their live show is as intense as ever with the incredible energy and musicianship that one would expect and hope for from a seasoned band with such a long musical history.
Recorded on August 11, 2016, Live at The Belly Up opens with the one-two punch of "Fool For The City" and "Eight Days on the Road" and doesn't let up until the last note of the raucous 10 minute, no-holds-barred set closer "Slow Ride."  The album also features three tracks from Foghat's 2016 release Under The Influence making their live recording debut: "Under The Influence," "Knock It Off," and "Hot Mama."  According to lead singer Charlie Huhn, "the band just wants to make sure that after every show, fans are convinced they just got rocked, from the second we start the first song to the end of the show." Live at The Belly Up proves that Foghat is delivering on that commitment.
Band:
Roger Earl – Drums / Background Vocals
Charlie Huhn – Lead Guitar/Vocals
Bryan Bassett – Lead/Slide Guitar / Background Vocals
Rodney O'Quinn – Bass / Background Vocals
Randy Meullier – FOH Sound Engineer
Mark Wilson – Guitar Tech
Mark Petrocelli – Drum Tech
Management: Linda Arcello-Earl, Noisy S.O.D., Inc.
Cover Art: Fred Andrews
All songs Mixed and Mastered by Bryan Bassett
Total Play Time: Approx. 74 Minutes
Total File Size: 157MB
http://foghat.net
Well…it's coming for our friends in Missouri! Our first show after more than a year and with our good friends
Savoy Brown and Kim Simmonds
! We couldn't be happier than to play with these guys! The show is outdoors and we hope everyone will stay safe so we can keep going and going and going! We are so ready to rock!