MICHAEL SCHENKER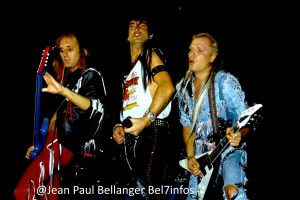 2020
Michael Schenker Group has released a lyric video for their first single "Drilled to Kill"; a heavy up-tempo track which is also the opening song of "Immortal".
The track features the legendary
Primal Fear
singer Ralf Scheepers on vocals, whilst Michael Schenker and keyboardist Derek Sherinian (
Black Country Communion
etc.) engage in an exciting battle of guitar vs. keyboard.
Michael Schenker brand new MSG album, "Immortal", will be released via
Nuclear Blast
on January 29th, 2021. The album title is a perfect statement describing Michael Schenker's legacy and to celebrate his 50th anniversary as a musician.
The artwork for the brand new MSG album "Immortal" is now revealed!
To be released by Nuclear Blast on January 8th, 2021, "Immortal" features a constellation of rock stars alongside guitar legend Michael Schenker.
"We have a lot of guest musicians, who will undoubtedly help to make the album an exceptional success", says Michael Schenker. He also adds: "First of all I want to say that I am very grateful to any musicians that have helped to create a fitting tribute to my long career on this special release. I want to thank all of them for their incredible contribution."
Michael Schenker is currently in the final stages of recording a brand new MSG album, which is set to be released on
Nuclear Blast
on January 8th, 2021. The album title will be "Immortal", a perfect statement to describe Michael Schenker's legacy and to celebrate his 50th anniversary as a musician.
"Immortal" will feature a big list of friends and guests, including the the album's main vocalist Ronnie Romero (Rainbow, Lords of Black), alongside Michael Voss (Mad Max), Ralf Scheepers (Primal Fear) and Joe Lynn Turner (ex-Deep Purple, Rainbow) singing on two tracks each. The new album line-up includes Steve Mann on keyboards, Barry Sparks (Dokken) on bass, three drummers Bodo Schopf, Simon Philipps (ex-Toto) and Brian Tichy (ex-Whitesnake), as well as the brilliance of the man himself, Michael Schenker, on guitars. Guests also include keyboard virtuoso Derek Sherinian on the opening track.
This super team recorded ten tracks, including the magnum opus "In Search Of The Peace Of Mind", the first song ever written by Michael Schenker and previously recorded on Scorpions' debut "Lonesome Crow". The song was recorded to celebrate Michael's 50th anniversary and features even more surprises, with singers Gary Barden, Doogie White, Robin McAuley and drummer Simon Phillips joining in this epic celebration.
The limited first edition of this upcoming MSG album will feature another unique extra: a Blu-ray of Michael Schenker Fest performance recorded during their headline show at
Bang Your Head Festival
two years ago.
We are so sorry but our Michael Schenker Fest shows in Tokyo and Osaka next week had to be called off just this morning due to concerns about the Coronavirus. This is a bitter blow for us because we had all put so much work into this and because we really did not want to let all our Japanese friends down during these tough times. We wanted so much to bring you some rock n roll good cheer but this crisis is out of our control and there is nothing else we can do. We do of course understand why these measures must be taken and if this action helps to prevent the spread of this rampant virus then that is, ultimately, the correct thing to do and we support it. The world needs to work together against the virus and maybe we can learn something from all of this going forward.
 新型コロナウイルス感染拡大に伴い、ご来場されるお客様及びキャスト・スタッフの健康および安…
新型コロナウイルス感染拡大に伴い、ご来場されるお客様及びキャスト・スタッフの健康および安…
2019

50 YEARS OF CLASS! Michael Schenker is proud to announce his Golden Anniversary in music, commencing with the exciting news that Michael Schenker Fest will be playing four shows across the UK in April 2020. The tour is dubbed the 'Revelation Tour', so named after Michael's killer new record released by Nuclear Blast.
Michael commented: "Michael Schenker Fest will be touring the UK to promote the brand new studio album 'Revelation' in April 2020, as well as celebrating 50 years of Michael Schenker. We will have a fresh set list and there could even be some extra special guests!"
16.04.2020 – Wolverhampton, KK'S Steel Mill – Live Music
17.04.2020 – Newcastle, O2 City Hall Newcastle
18.04.2020 – Leeds, O2 Academy Leeds
19.04.2020 – London, O2 Shepherds Bush Empire
Get your tickets here:
https://www.ticketmaster.co.uk/search?q=michael+schenker
MICHAEL SCHENKER FEST featuring:
Michael Schenker, Gary Barden , Robin Mc Auley, Doogie White, Chris Glen (Bass), Steve Mann (Guitar/Keys), Bodo Schopf (Drums).
More info:
http://michaelschenkerhimself.com/
facebook.com/michaelschenkerrocks
twitter.com/MW_Schenker
Booking: http://www.dragon-productions.com/
Meet & Greets Available (From October 1st) at
http://www.MichaelSchenkerFest.com/
RELEASED TODAY – New single from Michael Schenker Fest members Steve Mann, Gary Barden and Bodo Schopf, celebrating Gary's birthday today 
🙂. Play It Loud!
Google Play: https://play.google.com/store/music/album…
Amazon: https://www.amazon.com/Rocky-Mountain-Barden-S…/…/B07VPGTNVW
iTunes: https://music.apple.com/…/rocky-mountain-way-fe…/1474050379…
Legendary German guitarist Michael Schenker's MICHAEL SCHENKER FEST project will release its second studio album, "Revelation", on September 20 through Nuclear Blast. The disc was produced by Michael Schenker and Michael Voss and was recorded and mixed by Voss at Kidpool Studio Greven & Kidwood Studio in Münstertal, Germany between December 2018 and March 2019.
Revelation" will be released on a variety of different formats and is ready for pre-order now. It will be available as CD-digipak, 2LP (different colors) as well as a limited box set including CD-digipak, 2LP (red+black splatter), puzzle, poster 60×30, photo cards.
"Revelation" track listing (CD-digipak, 2-LP, digital)
01. Rock Steady
02. Under A Blood Red Sky
03. Silent Again
04. Sleeping With The Light On
05. The Beast In The Shadows
06. Behind The Smile
07. Crazy Daze
08. Lead You Astray
09. We Are The Voice
10. Headed For The Sun
11. Old Man
12. Still In The Fight
13. AscensionBonus:
14. Armed And Ready (live)
15. Bad Boys (live)
16. Rock Bottom (live)
BLABBERMOUTH.NET thank so much
And so the Michael Schenker Fest Resurrection Tour part 2 comes to an end. This entire team has effectively been a "surrogate" family for the last 6 weeks, but every single man (and Sarah!) has done a fantastic job in keeping the Schenker Fest machine well-oiled and firing on all cylinders. The biggest thanks, as always, go to all of you who came out and supported us and experienced a show of nearly 3 hours of pure ROCK! Those who came will know just how much fun we have on stage, and how each and every show was essentially one big musical party together with the audience. To all of you who preferred to watch little bits on YouTube instead of experiencing the live show – you'll never know what you missed.. and to be honest, if you haven't seen Michael Schenker playing live, you haven't seen Michael Schenker. See you all again soon and Keep On Rockin'!!
And that's the end of the Resurrection tour for North America! Thanks to everyone who came to show support and the venues for taking care of us. Plus, of course, the band and hard working crew for putting in the dedication to make this possible.
Here's the North American 2019 class photo, what a fine bunch of individuals
Don't forget, North America… Michael Schenker Fest are returning and we're kicking off our US tour on April 15th! Tickets are on sale now. Grab yours today and we'll see you on the road! www.michaelschenkerhimself.com/tour.php
The new Michael Schenker Fest album progresses… Bodo Schopf laying his drum tracks now 
🙂
Michael Schenker Fest Drum
Recordings with 'Bodo Schopf' @ Rolf Munkes' Empire Studios/Bensheim!!!
Michael Schenker fort drum
Recordings with "Bodo" @ Rolf Munkes Empire Studios / Labarthe !!!
2018
We are proud to announce a Michael Schenker Fest North American tour, which will also feature a fourth vocalist – Doogie White!
MICHAEL SCHENKER FEST
featuring 3 original M.S.G. singers Gary Barden, Graham Bonnet and Robin McAuley plus Doogie White (MICHAEL SCHENKER'S TEMPLE OF ROCK)
03/06 USA Silver Springs, MD – The Fillmore
03/07 USA Pittsburgh, PA – Carnegie Music Hall
03/09 USA Boston, MA – Berklee Performance Center
03/10 USA New York, NY – Irving Plaza
03/11 USA Philadelphia, PA – Theatre of Living Arts
03/12 CDN Montreal, QC – Club Soda
03/14 USA Detroit, MI – Royal Oak Music Theatre
03/16 USA Cleveland, OH – Agora Theatre
03/17 USA Chicago, IL – Concord Music Hall
03/18 USA Milwaukee, WI – Pabst Theater
03/19 USA Minneapolis, MN – Cabooze
03/22 USA Seattle, WA – Neptune Theatre
03/24 USA San Jose, CA – Events Center
03/25 USA Anaheim, CA – The Grove
03/26 USA Phoenix, AZ – Marquee Theatre
03/27 USA Las Vegas, NV – House of Blues
03/29 USA Denver, CO – Cervantes Ballroom
03/31 USA San Antonio, TX – Vibes Event Center
04/01 USA Dallas, TX – Bomb Factory
04/03 USA Tampa, FL – The Ritz
Tickets on sale 7th July.