RACHEL Z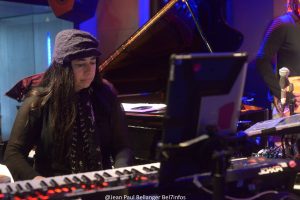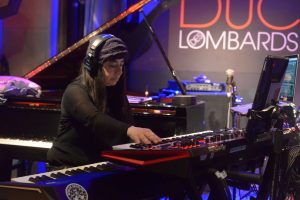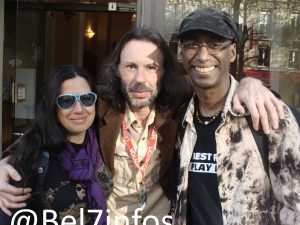 Rachel Z is a keyboardist with a long history of award-winning performances in the worlds of jazz and rock. She co-wrote the Grammy-winning song 'Tokyo Blue' with saxophonist Najee. In addition to her 13 albums as bandleader and her work in internationally acclaimed bands such as Steps Ahead, Vertú, the Omar Hakim Experience, and OZmosys, she has played and toured with artists like Wayne Shorter (on the Grammy-winning album High Life), Stanley Clarke, Marcus Miller, Terri Lyne Carrington, Al Di Meola, and Regina Carter. She also co-wrote the Grammy-winning song, 'Tokvo Blue' with saxophonist Najee Rachel came to worldwide prominence in the rock world in the Peter Gabriel concert films Growing Up Live and Still Growing Up Live.
Since 2000, she has been a Professor of Jazz and Contemporary Music Studies at The New School University in New York.
Since 2022 also a Professor of Jazz Studies and Electronic Music at Montclair State University and Cali School of the Arts.
*1988 co-wrote the Grammy Award-winning and certified Gold Record "Tokyo Blue" saxophonist Najee.
* From 1988–96 keyboards and piano with fusion band Steps Ahead with vibes player Mike Mainieri.
*1995 Wayne Shorter, on his album High Life, which won a Grammy for Best Contemporary Jazz Album.
*1996 Columbia Records Trust the Universe, Rachel Z Band
*1997 "Room of One's Own – A Tribute to Women Artists" Rachel Z
* NPR Piano Jazz.  READ MORE
*Rachel Z performs original pieces, including "Gently Sleeps the Pear Tree" and "Artemisia," and duets with host Marian McPartland in "Autumn Leaves."
*1999, Rachel Z was a part of a jazz fusion project by Stanley Clarke and Lenny White "Vertú",
*2000 Peacebox as a vocalist.
*1996-2015 Neapolitan Italian pop legend Pino Daniele,
*2002-2006 Peter Gabriel Growing Up tours and Hits Live
*2006 "Dept. of Good and Evil"
*2010 withOmar Hakim, The Trio Of OZ
*2012-13 Recorded with Pino Daniele for La Grande Madre Tour in 2012 while also performing OZ tour dates.
*2013–14, Rachel Z recorded with The Omar Hakim Experience.
*2014 recorded and toured with Wayne Escofferey "Live at Firehouse 12"
*2014-16 Terri Lyne Carrington Mosaic 2 "Love and Soul" on Concords Records.
*2015 Neal Schon Vortex/Journey.
*Ozmosys" (Omar and Rachel Z) have released a 5 song EP #Eyesto thefuture vol The group recorded an EP at #PowerStation #BerkleeNYC for release in Nov 2019 with #KurtRosenwinkel on guitar
*2020-2021 Rachel Z earned her Masters at Suny Purchase in Studio Composition and Electronic Music
*2022 recorded, produced, and recorded Luna Lagos an electronic dance artist who performs IDM recordings. These two CDs,  A Way of the Word  Angelica, will be also released in Dolby Atmos Immersive audio