Rock the Plaza All Star Concert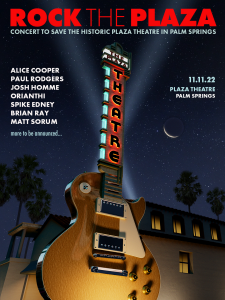 I found a few more mistakes, so if you decide to post again, use this as the basis for your post:
Hello my friends,
I have news!
Rock the Plaza All Star Concert to Raise Funds for the restoration of our Plaza Theatre in Palm Springs.
The historic Plaza Theatre announced that there will be a fundraising concert featuring a stellar line-up of world-class musicians and their friends.
"Rock the Plaza" is a major concert to be performed at the Plaza Theatre in Palm Springs. The concert will take place on Friday, November 11 at 8 p.m.
The lineup features Alice Cooper, Paul Rodgers (Bad Company), Josh Homme (Queens of The Stone Age), Orianthi (MJ), Brian Ray (Paul McCartney, Etta James), Spike Edney (Queen), and Matt Sorum (Guns n' Roses, Velvet Revolver).
Additional musicians include Jon Button – Bass (The Who), Pete Thorn – Guitar (Chris Cornell, Don Henley), and Teddy 'Zig Zag' Andreadis – Keys (Guns N' Roses, Slash). The event will be hosted by music producer and SIRIUS XM DJ Chris Carter.
The Palm Springs All-Stars are led by local residents Spike Edney and Brian Ray, along with Rock & Roll Hall of Fame drummer Matt Sorum.
Please come and join us in this worthy cause, but don't leave it too long, tickets are going fast!
Our terrific lead sponsor is Margaritaville resorts. They are offering an amazing rate on hotel rooms five minutes away from the venue.
Scroll down to the bottom for Margaritaville hotel packages