Ronaldinho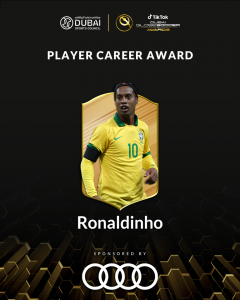 Ronaldinho a remporté le prix de carrière Globe Soccer Player 2021.
It is impossible to describe the great Brazillian attacking midfielder
Ronaldinho Gaúcho
in anything other than superlatives – he was considered one of the greatest players of his generation, and for many, is regarded as one of the greatest of all time.
His achievements include being one of just eight players to have won the World Cup, the Champions League and the Ballon d'Or. But he is remembered for the joy he brought to fans with his spectacular performance on the pitch. Today he is awarded Player Career Award by Globe Soccer.
Il reconnaît les réalisations du joueur tout au long de sa carrière et constitue une autre preuve de sa grandeur et de son impact global sur le jeu.
Behind the scenes of Ronaldinho's return to Paris
ainsi que KYLIAN MBAPPE
Mbappé bat Messi pour remporter le prix du joueur masculin de l'année Globe Soccer