Swann Auction Galleries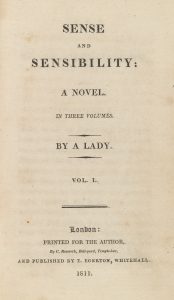 HIGH RES IMAGES BY REQUEST
IMAGES COURTESY OF SWANN AUCTION GALLERIES
First Editions of two of Jane Austen's most celebrated novels are expected to fetch up to $60,000 at Swann Auction Galleries in New York on February 20.
Appearing as part of the Fine Books & Manuscripts auction, Sense and Sensibility: A Novel in Three Volumes, from 1811, is estimated at $30,000 to $40,000, while Emma: A Novel in Three Volumes, from 1816, is estimated at $15,000 to $20,000.
Emma is the only one of Jane Austen's novels to bear a dedication, to the Prince Regent. It was her fourth novel to be published, and this is one of only 2000 copies from the First Edition.
Highlights from the sale also include a 1927 signed limited edition copy of Kew Gardens, a short story by Virginia Woolf first published in 1919, estimated at $5,000 to $7,500.
Images courtesy of Swann Auction Galleries
Auction title: Fine Books & Manuscripts
Auction date: Thursday, February 20, at 10:30 am (EST)
Preview dates: February 15, 12-5; February 17-19, 10-6; February 20, 10-12
Specialist: Rick Stattler • rick@swanngalleries.com
• 212-254-4710 x 27
Press: Alexandra Nelson • alexandra@swanngalleries.com
• 212-254-4710 x 19
Social media: @swanngalleries
For further information contact info@lucasfieldmedia.com
or call +44 (0)7968 952850
PRINTED CATALOGUE & ADDITIONAL DIGITAL IMAGES AVAILABLE ON REQUEST
Swann Auction Galleries is a third-generation family business as well as the world's largest auction house for works on paper. In the last 75 years, Swann has repeatedly revolutionized the trade with such innovations as the first U.S. auction dedicated to photographs and the world's only department of African-American Fine Art. More than 30 auctions and previews are held annually in Swann Galleries' two-floor exhibition space in Midtown Manhattan, and online worldwide.
Visit swanngalleries.com for more information.