ANDRE MATOS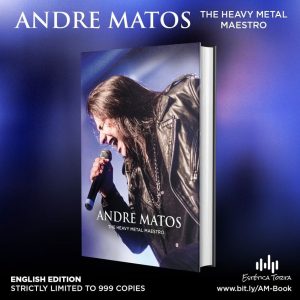 Strictly limited to 999 copies, individually numbered. Worldwide shipping. 476 colored pages. Hard cover. Full text in English with rare images. Exclusive Preface by Tobias Sammet (Avantasia).
Early bird / black friday discount: 25% OFF
Metal singer, composer, professional conductor, producer, pianist. An impressive resume, with academic training in orchestral conducting, composition, lyrical singing and classical piano. Leading the bands VIPER, ANGRA and SHAMAN, he sold millions of records, explored previously unimaginable markets and played to huge crowds. Fluent in English, Spanish, Italian, French, German and Swedish, he was a citizen of the world.
ANDRE MATOS: THE HEAVY METAL MAESTRO presents a detailed account of the entire career of heavy metal star ANDRE MATOS. More than that, readers will have a glimpse of what the human being was like behind the promotional photos and the stage lights: the Andre with dreams and nightmares, attached to simple things; a man who led huge bands and could have become a millionaire, but chose to endure the consequences of not selling off his values; a person never ashamed to start out from zero, as many times as needed. The man who abruptly and prematurely left this world at the age of 47.
In addition to an extensive and detailed research over hundreds of interviews given by Andre Matos to magazines, newspapers, websites, TV and radio stations over the past three decades, the authors have interviewed many people very close to Andre, who had him not as a rockstar, but as a friend. Among the 60 people interviewed for this book, we could name: Felipe Machado, Pit Passarell, and Yves Passarell from VIPER. Kiko Loureiro, Rafael Bittencourt, Ricardo Confessori from ANGRA. Hugo Mariutti and Fábio Ribeiro from SHAMAN. André "Zaza" Hernandes, Bruno Ladislau, Rafael Rosa and Rodrigo Silveira from ANDRE MATOS SOLO. Many people from many important bands where Andre featured, such as Mark Jansen (EPICA), Tobias Sammet (EDGUY, AVANTASIA), Fernando Ribeiro (MOONSPELL), Luca Turilli (RHAPSODY), Sascha Paeth (HEAVEN'S GATE), Heleno Vale (SOULSPELL), Andreas Kisser and Eloy Casagrande (SEPULTURA), and many others, such as managers, promoters, roadies, music colleagues, as well ANDRE's own family: his mother, brother, sister, cousin, former wife and son.
The English edition of ANDRE MATOS: THE HEAVY METAL MAESTRO have 476 colored pages, filled with rare and never seen photos, provided by Andre's family and friends. Following the same quality of the Brazilian edition, the book will be released in a bealtiful design, hard cover edition, strictly limited to 999 numbered copies. Get yours here:
www.bit.ly/AM-Book
.
This is a pre-order item. Shipments will be done by May 31th, 2021, tracked & insured.